12th Annual SMA Conference- The Evolving Anatomy of Conflict in a Dynamically Changing World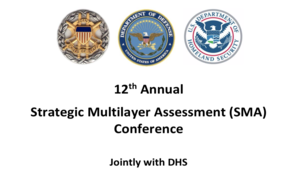 12th Annual SMA Conference – The Evolving Anatomy of Conflict in a Dynamically Changing World
Author | Editor: Aviles, W. (NSI, Inc.)
Conference Theme
The 12th Annual SMA Conference, entitled "The Evolving Anatomy of Conflict in a Dynamically Changing World," was held 21-22 May 2019 at the General Jacob E. Smart Conference Center at Joint Base Andrews in Maryland. The conference theme was defined as:
"The actors, actions, and arenas of the emerging global security environment are changing. To navigate these murky waters, the United States requires effective statecraft that relies in equal measure on: (1) resurgent diplomatic application of national will, (2) information and technological overmatch including through artificial intelligence, (3) multi-use conventional and irregular warfighting capabilities, and (4) economic growth fostering national interests across domestic and international private-public partnerships. Such a comprehensive and nuanced approach is needed to achieve strategic success in diverse contested spaces, and address the complex political, economic, social, and ecological challenges that will face the nation."
Jointly with the Department of Homeland Security (DHS), SMA welcomed panelists and speakers from across the United States Government (USG), academia, foreign partner nations, and industry to explore this theme. This year, the Conference welcomed keynote speakers General Paul J. Selva, Vice Chairman of the Joint Chiefs of Staff (VCJCS), and Lieutenant General John N. T. Shanahan, Director of the Joint Artificial Intelligence Center (JAIC), and invited speaker Mr. Brian Murphy, Principal Deputy Under Secretary for the Office of Intelligence and Analysis in DHS.
Download Conference Proceedings