From Pain to Possibility: What Can Neuroscience, Design, and Disruptive Technology Teach Us Today About Transforming Leaders and Organizations for Tomorrow's Unknowns?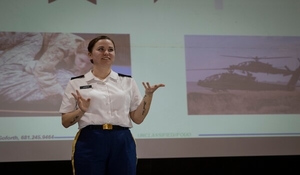 Speakers: Courtney, A. (Frontier Design); DiGangi, J. (NeuroHealth Partners); Myers, J. (Strategic Link Partners)
Date: 27 August 2020
Speaker Session Summary
SMA hosted a panel discussion as part of its SMA UK MoD Speaker Series. The panelists included Ms. Alexa Courtney (Frontier Design), Dr. Julia DiGangi (NeuroHealth Partners), and Ms. Joanie Myers (Strategic Link Partners). Ms. Courtney began by identifying two different categories of problems: clock problems, which are finite and controllable, and cloud problems, which have many interdependencies and are more difficult to control. Ms. Courtney argued that many organizations try to use linear, "clock-like" solutions to solve "cloud" problems, which is why they do not succeed. She explained that there are three principles to consider when solving cloud problems: the importance of cognitive diversity, the urgency of creativity, and the necessity of adaptive capacity. Ms. Courtney then stated that in order to improve a team's problem-solving ability and excel when compared to other teams, teams should optimize their cognitive diversity. Dr. DiGangi continued the talk by discussing the human brain's relationship with adversity and suffering. She claimed that in order for people to manage and control change, they must first manage the pain that they feel, then think counterintuitively. She elaborated that the general stress, pain, and anxiety that individuals are experiencing due to the COVID-19 pandemic are all felt in the same part of the brain. Dr. DiGangi then spoke about the central paradox of pain, highlighting that it is often in discomfort where one is able to find relief from the pain he or she is experiencing. She outlined a framework for harnessing pain as well, while emphasizing slowness, silence, and selectiveness. To conclude her remarks, Dr. DiGangi stated that change often fails because behavioral targets are too complex, change occurs in the space between stimulus and response, and organizations need to be willing to devote the energy and attention that a transformational change requires. Next, Ms. Myers discussed how organizations are preparing themselves for success, especially during the COVID-19 crisis. She emphasized the importance of creativity and imagination in a challenging environment but added the caveat that imagination is only useful if there is a framework that is both practical and tactical. Giving your organization a mantra to rally around and refer back to will help guide organizations' decision making during a challenging time, Ms. Myers stated. She also referenced two examples during her talk: 1) a SOF precision air drop's framework of "shoot, move, communicate," and 2) USASOC's rally around the framework of "determination, lethality, creativity" during COVID-19. Ms. Myers concluded by challenging audience members to find a framework for their pwn organization in order to encourage innovation and creativity in problem solving.
Speaker Session Recording
This session was not recorded, as per the panelists' request.
Download Panelists' Briefing Materials