Maximizing US Assistance: Stabilization Assistance Review & Great Power Competition
September 2019
No Comments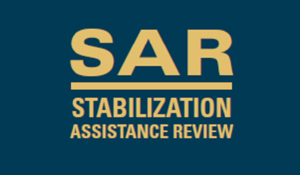 "Maximizing US Assistance: Stabilization Assistance Review & Great Power Competition"
Speakers: Leggiero, K. (Office of Under Secretary of Defense for Policy, Special Operations and Low Intensity Conflict, Stabilization and Humanitarian Affairs); Ellis, V. (US Department of State, Bureau of Conflict and Stabilization Operations)
Date: 20 September 2019
Speaker Session Preview
SMA hosted a speaker session presented by Ms. Katherine Leggiero (Office of Under Secretary of Defense for Policy, Special Operations and Low Intensity Conflict, Stabilization and Humanitarian Affairs) and Ms. Vickie Ellis (US Department of State, Bureau of Conflict and Stabilization Operations) as a part of its SMA General Speaker Series. Ms. Ellis first explained that the Stabilization Assistance Review (SAR) is a framework used to maximize US government efforts to stabilize conflict-affected areas based on lessons learned, emphasizing political analysis, targeted assistance, strategic burden-sharing, and accountability. The US Department of State (DOS) is the lead federal agency, the US Agency for International Development (USAID) is the lead implementer, and the US Department of Defense (DOD) provides support regarding requisite security and reinforcing civilian efforts when appropriate. After explaining what the SAR is, Ms. Ellis defined stabilization as "a political endeavor that requires aligning US government efforts—diplomatic engagement, foreign assistance, and defense— toward supporting locally legitimate authorities and systems to peaceably manage conflict and prevent a resurgence of violence." She also stated that stabilization is political, transitional, and requires sequencing of engagement and the layering of activities. Ms. Ellis then explained how the SAR determines how effective stabilization efforts are, as well as how the DOS, USAID, and DOD align their ongoing efforts with the SAR. She also emphasized that civil-military coordination and co-deployment are critical to the effort. Next, Ms. Leggiero discussed how the DOD takes the principles and lessons learned from the SAR and applies them. For example, the DOD: 1) helps ensure that stabilization efforts continue to be implemented after the interagency leaves, 2) emphasizes cooperation with the host nation and other international stakeholders, and 3) helps ensure that only a small footprint is left behind. She then briefly spoke about stabilization in great power competition, highlighting that US adversaries seek to destabilize its partners, and its main response to counter these efforts should be stabilization. To conclude, Ms. Ellis spoke about some of the upcoming milestones of SAR implementation.
Speaker Session Audio File
This speaker session was not recorded, as per the speakers' request.
Download Ms. Leggiero's and Ms. Ellis' Biographies and Slides