The Lapsing Arms Embargo on Iran: Challenges, Change, Iranian Military Modernization, and US Responses
September 2020
No Comments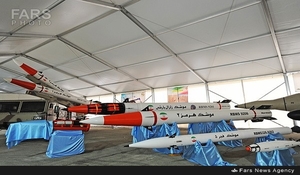 Speaker: Ben Taleblu, B. (Foundation for Defense of Democracies)
Date: 30 September 2020
Speaker Session Summary
SMA hosted a speaker session as a part of its SMA CENTCOM Speaker Series, featuring Mr. Behnam Ben Taleblu (Foundation for Defense of Democracies).
Mr. Taleblu's presentation focused on the lapsing UN arms embargo on Iran. He stated that four primary groups are affected by the expiration of the arms embargo: 1) those who are interested in the Joint Comprehensive Plan of Action (JCPOA); 2) the US sanctions community; 3) those in the US military who are looking at Iran's conventional and asymmetric capabilities; and 4) those employed by multilateral or international organizations, or by non-government organizations that do diplomacy with UN Security Council (UNSC) member nations. Mr. Taleblu also provided a brief history of US arms embargoes against Iran, beginning with that of 1979 (during the Islamic Revolution and the Iranian hostage crisis).
He then turned to the Iranian side of the equation, while focusing on the critical junctures of Iran's arms industry. Iran's foreign policy and security thinking have been impacted by its recognition that the delivery and sales of its technical equipment and spare parts could be held up by a third party under UN/US sanctions. Moreover, the Iran-Iraq War (1980-1988) has significantly influenced Iran's arms industry. Mr. Taleblu explained that this war led to 1) the creation of a small domestic arms industry in Iran that grew over time; 2) an Iranian need for self-sufficiency; 3) an increased Iranian interest in the procurement of full systems, raw materials, and key technical equipment to feed into its domestic arms industry; and 4) a shift in Iranian focus towards deterring a sole superpower (the US) from invading the Islamic Republic by land and, consequently, a build-up of long-range strike capabilities both for deterrence and coercion. He added that deterrence by punishment made a significant impact on Iran during the Iran-Iraq War as well. The harsh lessons that Iran learned during this war caused Iran to develop a firm posture towards adversaries, according to Mr. Taleblu. This posture is one that implies that if a nation engages in a kinetic conflict with Iran, it will not be short and swift, and it will come at a great cost. Furthermore, select systems from Russia, China, and North Korea have all fed into Iran's overall national security strategy as a result of previous uses of deterrence by punishment against Iran. Mr. Taleblu emphasized that Iran's strategy will play a critical role with regards to this lapsing embargo, overall.
Mr. Taleblu then discussed several options being discussed publicly as a result of the expiration of the arms embargo. These options included: 1) Adversaries that have revisionist tendencies towards the US could provide a deluge of conventional weaponry and transform this asymmetric challenge from Iran into a more conventional challenge; 2) The aforementioned adversaries may have issues with or hesitancy to immediately sell Iran every item that it desires due to potential payment and/or training issues, and therefore, Iran might engage in a selective modernization campaign; 3) Iran could procure technological components that have dual use applicability for retaining rather than reforming its existing technologies; and 4) A mix of options 1-3 could occur. To conclude, Mr. Taleblu stated that the US's policy towards Iran has remained fairly consistent—it has applied pressure in order to coerce and deter Iran. Moreover, there are positive, hopeful actions occurring within the UNSC, according to Mr. Taleblu, and he advised that the UNSC makes a continued effort to think about what is likely on Iran's arms shopping list, in addition to how to effectively limit Iran's hybrid war capabilities.
Speaker Session Recording
Download Mr. Ben Taleblu's Biography