The Options for Getting to Political Reconciliation in Afghanistan
December 2018
No Comments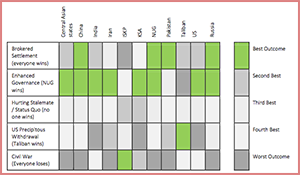 The Options for Getting to Political Reconciliation in Afghanistan
Contributors: Jafri, A., Stevenson, J., Kuznar, E. & Canna, S. (NSI, Inc.)
Executive Summary
In August of 2018, United States Central Command asked the Strategic Multilayer Assessment Reachback team, How can the United States best increase the resolve and capability of regional actors to get to political reconciliation in Afghanistan? This report highlights the results of NSI's Interest-Resolve-Capability (I-R-C)™ analysis of Afghanistan stakeholder dynamics.
The I-R-C analysis reveals a stakeholder preference for some kind of stable political settlement (the exception is the ISKP). However, under current conditions, the analysis also suggests that critical stakeholders are divided between two stability outcomes—Enhanced Governance and Brokered Settlement. Sensitivity analyses of stakeholders' interests ranking reveal that this divide is maintained by the United States as the most resolved and most capable actor in favor of Enhanced Governance over Brokered Settlement. The United States' preferences were found to be extremely robust; the key factor limiting the United States support of Brokered Settlement is its ongoing, global competition for relative geopolitical influence vis-à-vis China and Russia. For almost all the other actors, a Brokered Settlement is the potential outcome most likely to find broad stakeholder support—or at least avoid direct opposition; besides the United States, those resolved against Brokered Settlement, such as the ISKP and KSA, lack capability to undermine the outcome.
The report concluded that the United States can increase key stakeholder's resolve in favor of political reconciliation in Afghanistan by prioritizing a Brokered Settlement more than geopolitical influence competition. Our analysis suggests that the United States will still possess high absolute levels of influence capability, though its levels of influence capability relative to Russia and China may be less asymmetrically in its favor. In other words, a cooperative approach which nourishes the rise of other stakeholders' levels of influence may counter-intuitively better preserve sustainable (and more affordable) options for long-term United States' influence in the region beyond a two to five-year window.
Download Publication