Russian "Firehose of Falsehood" Propaganda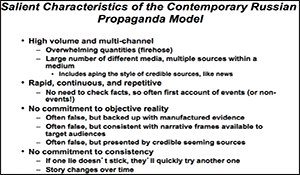 The Russian "Firehose of Falsehood" Propaganda Model Why It Might Work and Options to Counter It.
Speaker: Paul, C. (RAND).
Date: July 2016.
Dr. Christopher Paul is a Senior Social Scientist working out of RAND's Pittsburgh office. Prior to joining RAND full-time in July of 2002, he worked at RAND as adjunct staff for six years. Chris received his Ph.D. in sociology from UCLA in 2001; he spent academic year 2001-02 on the UCLA statistics faculty. He also teaches at Carnegie Mellon University and in the Pardee RAND Graduate School. Chris has developed methodological competencies in comparative historical and case study approaches, quantitative analysis, and evaluation research. Current research interests include security cooperation, information operations, counterinsurgency, irregular/unconventional warfare, and operations in cyberspace. Recent RAND reports include RR-935, A Building Partner Capacity Assessment Framework: Tracking Inputs, Outputs, Outcomes, Disrupters, and Workarounds, RR-809/1 Assessing and Evaluating Department of Defense Efforts to Inform, Influence, and Persuade: Desk Reference, and RR-291/1 Paths to Victory: Lessons from Modern Insurgencies. Recent commercial books include Strategic Communication: Origins, Concepts, and Current Debates, and Information Operations –Doctrine and Practice: A Reference Handbook.
Chris has spoken, presented, taught, testified, or lectured before the House Armed Services Committee, for NATO audiences, to defense audiences in Singapore, the United Kingdom, Australia, and New Zealand, at the National Defense University, at the Naval Postgraduate School, at the Army War College, at the Naval War College, at the School of Advanced Military Studies – Army Command and General Staff College, at AETC Air Command and Staff College, at the Center for Army Analysis, at the USA/USMC COIN Center, at the Air Force Special Operations School, and at the State Department's Foreign Service Institute, among others.
Download Publication