The United States, Iran, and the Politics of the JCPOA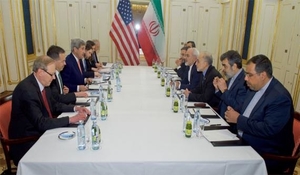 "The United States, Iran, and the Politics of the JCPOA"
Speaker: Ansari, A. (University of St. Andrews / Royal United Services Institute (RUSI))
Date: 7 August 2019
Speaker Session Preview
SMA hosted a speaker session presented by Professor Ali Ansari (University of St. Andrews / Royal United Services Institute (RUSI)) as a part of its SMA CENTCOM Speaker Series. Professor Ansari first stated that some of the issues related to the Joint Comprehensive Plan of Action (JCPOA) are a result of the negotiation process itself. He explained that the US sees the election of Iranian President, Hassan Rouhani, as an important staging post in the relationship between the US and Iran. However, to most Iranians, other factors still inhibit the development of this relationship. In 2009, when the JCPOA was being negotiated, the crisis following the Iranian presidential election brought forth serious divisions between the elite and Iranian citizens. Professor Ansari stated that then-President Barack Obama saw the protests following the election as a bit of an inconvenience, as he wanted the nuclear deal to be passed. At the same time, Iranian Supreme Leader Sayyid Ali Hosseini Khamenei was simultaneously facing a domestic crisis and an international situation, so he sought a solution to the international crisis as a means of reconciling the Iranian population. Ultimately, US failure to acknowledge the political situation occurring in Iran at the time and its hurry to pass the deal subsequently led to flaws within the JCPOA's construction. Professor Ansari added that one of the main problems with the JCPOA is that it was framed on two distinct premises and understandings of the historical and political inheritance. Professor Ansari also discussed the narratives that the US and Iran constructed during the time of negotiations. He stated that the US painted Rouhani, upon election, as a peacemaker and a moderate. On the other hand, Iran provided a more cautionary narrative, painting Obama as someone who cannot be blindly trusted. Prof. Ansari also explained that the US entered JCPOA negotiations with a great deal of guilt over how the 1953 Iranian coup d'état was handled, which gave Iran some leverage during the agreement's creation. He spoke about the narratives surrounding Iranian victimization, pressures imposed by time, Khamenei's perceived political flexibility, and the perceived shared willingness of Iran to get involved in negotiations in the first place. To conclude, Professor Ansari spoke about the future of US-Iran relations, highlighting the need for both countries to return to the negotiation table to sort out any outstanding issues.
Speaker Session Audio File
To access a recording of this session, please email Ms. Nicole Peterson (npeterson@nsiteam.com).
Download Prof. Ansari's Biography and Slides