BEHAVIORAL SEGMENTATION
Consumers have different needs at different times. These differences drive purchasing. Also, some segments are more valuable than others in terms of revenue and profitability. By segmenting based on behaviors and situational factors, rather than fixed demographics or attitudes, strategies can be developed to tailor approaches, as we as grow the most attractive segments.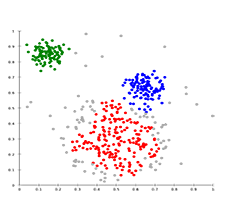 A More Adaptable Approach
Historically, segmentation in most organizations has been based on fixed factors such as demographics and attitudes… which tend not to change. However, purchasing and usage patterns can shift depending on changing needs, situational factors, and circumstances. For example, someone may buy a business book today for work, a children's book to read to her son tomorrow, and a crime novel the next day for herself. Traditional segmentation makes this common scenario impossible if it is only based on demographics.
NSI's business analytics approach to segmentation is based on behaviors and situational factors enabling organizations to not only develop targeted marketing strategies for their most valuable segments, but also to gain insight into how to move people into the more valuable segments. This approach was successfully applied in profiling customer service preferences in one application, and different types of brand usage in another.