ISRAELI-PALESTINIAN SECURITY REFORM
NSI supported a collaborative review effort at the request of the US Security Coordinator for Israel and the Palestinian Authority (USSC) to evaluate strategic risks and identify knowledge gaps in order to provide an increased understanding of potential future security environments and their implications for Palestinian security sector reform. Over one hundred subject-matter experts participated in the effort spanning the DoD, intelligence agencies, academia, think tanks, and private industry. The analytical team focused on producing analyses that addressed USSC's questions grouped into three broad categories: internal Palestinian security concerns; challenges to Israeli-Palestinian joint security; and the role of external actors in Israel-Palestinian security. The findings form the basis of effective security sector reform suggestions for the Palestinian Authority.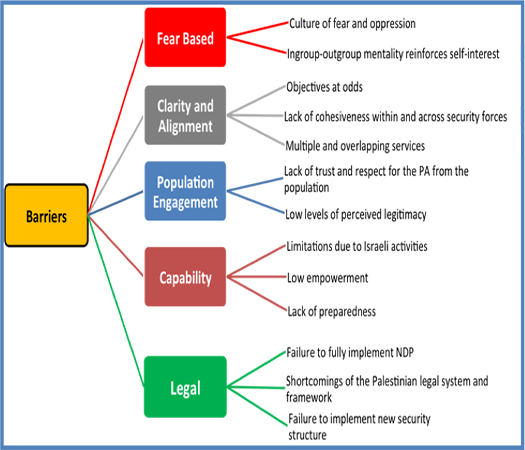 Challenges to Palestinian Internal Security
What are the critical areas of security sector reform required to make civil society work within the Palestinian Authority and across the territories versus the status quo?
NSI conducted an analysis to identify Palestinian security sector reform measures that would assist in fostering a healthy and transparent relationship between the Palestinian security sector and Palestinian civil society in the West Bank. A two stage analytic methodology was used that culminated with a barrier analysis that identified impediments, or barriers, to the provision of security by the Palestinian security sector consistent with acceptable practices of modern security forces and in alignment with civil societies expectations. The methodology enabled identifying security sector reform measures that can both strengthen and solidify the Palestinian security sector in a manner that is popularly accepted and sustainable with the Palestinian civil society. Several areas of security sector reform measures were suggested including clarifying confusion over roles and responsibilities of the Palestinian security sector, strengthening legitimacy of the security forces in the eyes of Palestinian civil society and the population, and improving equipping and training of the security forces. We also conducted an initial cursory dignity analysis as part of this effort based on the barrier types we identified that give rise to dignity violations. The PASF's failure to treat citizens with dignity was identified as a critical feature in group interactions and is related to the concept of justice—a central principle in the Palestinian psyche and culture.
---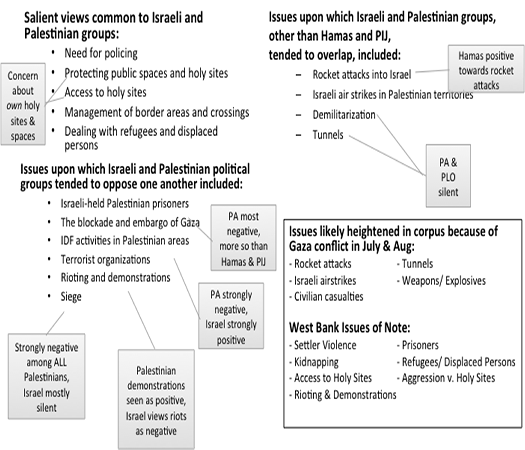 Israeli-Palestine Joint Security
What are the minimum thresholds for indigenous security forces in protecting its citizens and guarding its borders, particularly when the neighbor country demands an unspecified level of security?
NSI also conducted a thematic discourse analyses on leadership speeches from across the Israeli and Palestinian political spheres. Our analysis sought to understand the political positions and security interests of Palestinians and Israelis in order to find potential areas of compromise and conflicting interests. We identified important areas of mutual concern that may serve as starting points for negotiation, but also areas of diametric opposition. Coordinated policing, access to and protection of holy sites and public places, handling of refugees and displaced persons, and management of border areas and crossings were some of the key concerns that were common across the parties. Blockade and embargo of Gaza, Israeli-held Palestinian prisoners, and IDF activities in Palestinian areas were not.
---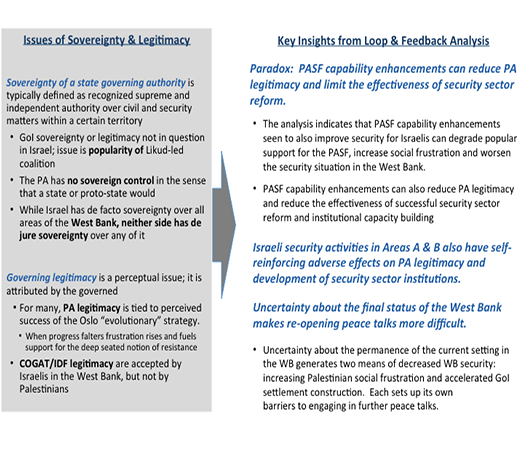 Israeli-Palestine Joint Security
With respect to cross-border arrests, prosecutions, and targeted lethal action, what are the challenges, risks, and opportunities to legitimacy and sovereignty between neighbors with competing security requirements?
NSI also conducted an analysis using conceptual maps, or qualitative loop diagrams, that related (a) Israeli and Palestinian Authority sovereignty and legitimacy in the West Bank, with (b) Palestinian violence and cross-border and Israeli Defense Forces/Coordinator of Government Activities in the Territories (IDF/COGAT) activities. Our relationship and feedback loop model reflect the dynamics that drive the security challenges and risks that impact Palestinian security sector reform and institutional development effectiveness. Key findings from our analyses include: Palestinian Authority Security Forces (PASF) enhancements in capabilities can reduce the legitimacy of the Palestinian Authority and limit the effectiveness of security sector reform measures; governing legitimacy in the Palestinian Authority is critical for successful security sector institution building and capacity building in the PASF; security activities by the Israelis have adverse effects on the legitimacy of the Palestinian Authority; and uncertainty about the West Bank and the settlement populations undermines settlement talks.
---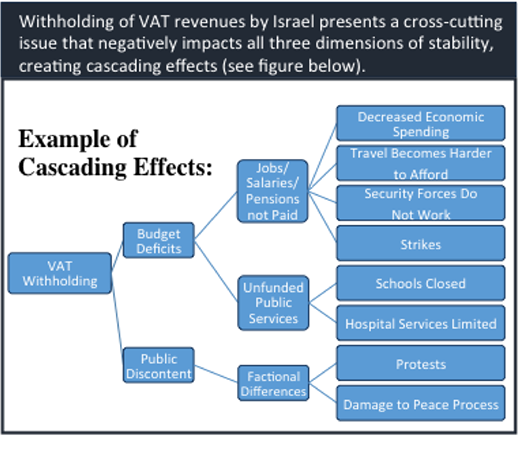 External Actor in Israeli-Palestinian Security
With respect to the linkages between security, economy, and governance, and with recognition that each is needed to support a functioning state, where should the international community invest?
NSI also conducted a stability model analysis using the StaM that focused on multiple factors that contribute to instability in the West Bank. There primary findings from the StaM, include: political stalemate on the West Bank degrades perception of legitimacy of the Palestinian Authority; the PASF is feared and seen as working with the IDF and violating human rights; declines in foreign aid and continue VAT withholdings are crushing the economy, preventing payroll payments, harming the environment, and impairing basic human rights and needs; high unemployment among youth, inappropriate job training, and a climate of conflict lead to uprisings; and limiting protests and speech grow discontent and risk retaliatory actions.