Part 10 Supplemental Transcripts From NPS Event
February 2017
No Comments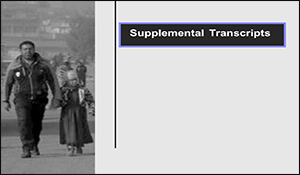 SMA CENTCOM Reach-back Reports – Part 10: Supplemental Transcripts.
Author | Editor: SMA Program Office.
The enclosed reports discuss wide-ranging issues related to the defeat if ISIL and stabilization of Syria and Iraq supplementary to the 9-part series of SMA Reach back responses to questions posed by USCENTCOM grouped by theme. Series reports may be obtained from Sam Rhem in the SMA Office at samuel.d.rhem.ctr@mail.mil.
At the request of United States Central Command (USCENTCOM), the Joint Staff, Deputy Director for Global Operations (DDGO), jointly with other elements in the JS, Services, and U.S. Government (USG) Agencies, has established a SMA virtual reach-back cell. This initiative, based on the SMA global network of scholars and area experts, is providing USCENTCOM with population based and regional expertise in support of ongoing operations in the Iraq/Syria region.
The Strategic Multi-Layer Assessment (SMA) provides planning support to Commands with complex operational imperatives requiring multi-agency, multi-disciplinary solutions that are NOT within core Service/Agency competency. Solutions and participants are sought across USG and beyond. SMA is accepted and synchronized by Joint Staff (JS/J-3/DDGO) and executed by ASD(R&E)/EC&P/RRTO.
The following discussions are part of the enclosed volume:
Discussion Session with Naval Postgraduate School – 1 Nov 2016
Discussion Session with Naval Postgraduate School 18 January 2017
Interview Transcript – Murhaf Jouejati, National Defense University
Interview Transcript – An Academic Who Wishes to remain Anonymous
Interview Transcript – Nader Hashemi, University of Denver
SMA Speaker Event, ISIS & Religion & Nation-Building in the Middle East, Dr. Joshua Landis, University of Oklahoma
Download Publication