Strategic Multi-layer Assessment Report Card
February 2017
No Comments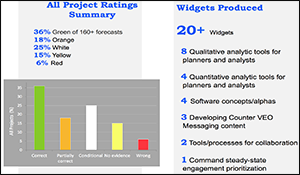 Strategic Multi-layer Assessment (SMA) Report Card.
Author | Editor: Astorino-Courtois, A. (NSI, Inc).
Strategic Multi-Layer Assessment (SMA) provides planning support to Commands. SMA projects focus on complex operational imperatives requiring multi-agency, multi- disciplinary solutions that are NOT within core Service/Agency competency. SMA solutions and participants are sought across USG and beyond. SMA is accepted and synchronized by Joint Staff (JS/J-39) and executed by ASD(R&E)/EC&P/RRTO. SMA efforts are Coalition based and address mission areas spanning Counter-Terrorism; Counter-Insurgency; Countering Proliferation of WMD (State and non-State); Individual, State, and National-level Deterrence Assessment; and Strategic Global and Regional Assessments.
This report provides a scorecard of SMA project assessment results by geographical region: Middle East, Eurasia, Central and South Asia, Pacific, and Africa; as well as by global issue: Cyber, Deterrence, Counter-Terrorism, and Counter-WMD.
The SMA projects assessed include:
FY 07: Sudan Strategic Assessment (CENTCOM)
FY 07: DAPSE (STRATCOM)
FY 08: WMD-T (SOCOM), Global Assessment of WMD-T (SOCOM/DTRA Cell established)
FY 09: Interagency LOE (STRATCOM)
FY 09: Deterrence (STRATCOM)
FY 09-10: Support to ISAF (Gens McChrystal/Flynn)
FY 11: IVEO (CENTCOM/SOCOM)
FY 11: Concepts and Analysis of Nuclear Stability – CANS (STRATCOM)
FY 12: Insights from Neurobiology on Influence and Extremism (Joint Staff J39)
FY 12-13: Strategic Short- and Long-term Stability in South Asia (CENTCOM/PACOM/STRATCOM)
FY 14: A Multi-disciplinary, Multi-method Approach to Leader Assessment at a Distance: The Case of Bashar al-Assad (JS)
FY 14: Megacities RSI (PACOM)
FY 14: Drivers of Conflict and Convergence in the Asia-Pacific Region in the
Next 5-25 Years (PACOM)
FY 14: US Engagement Options in Sub-Saharan Africa (AFRICOM)
FY 14: The Dynamics of ISIL Success in Multi-method Assessment of ISIL
FY 15: Coordinator's Mission Review (USSC)
FY 15: Looking Beyond ISIL: What Would the Region Look Like Beyond the Current Phase? (SOCCENT)
FY 15: Russia and NATO Post Putin: The Space Between Peace and War (EUCOM)
FY 16: Gray Zone Conflicts – Challenges and Opportunities (SOCOM)
FY 16: Counter Da'esh Messaging (USASOC)
Download Publication