Multi-Step Approach Closing DoD's Cognitive Capability Gap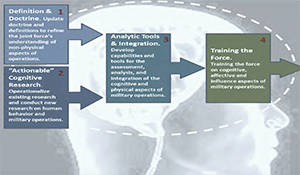 A Cognitive Capabilities Agenda: A Multi-Step Approach for Closing DoD's Cognitive Capability Gap.
Author | Editor: A. Astorino-Courtois (NSI, Inc,).
Executive Summary
The Strategic Multi-Layer Assessment (SMA) team conducted a year-long project for USSOCOM on the growing prevalence of Competition Short of Armed Conflict (CSAC), or use of "Gray Zone" tactics by US adversaries. Key findings from the study include first, the immediate need to incorporate the "human / cognitive domain" into military planning to avoid the strategic surprise that gray zone tactics intend. Second, the study highlighted the current deficit in the joint force of operationally-applicable human / cognitive domain information and expertise. During its final project review, the study's Senior Review Group (SRG) noted that "…the changing nature of conflict means that the US Department of Defense (DoD) needs to start changing the way it thinks as a whole, and the results of this SMA effort can play a valuable role" in broadening our understanding of the strategic and operational environment to incorporate the human/cognitive aspects of military operations. Reflecting on the deficit in US capabilities in the cognitive environment the SRG asked: "Who is going to craft the appropriate messages? Who is going to provide the necessary tools? Who is going to use these tools? These are questions that we need to answer."
This s white paper is a brief effort to suggest an initial outline that might be undertaken to address these questions.
Contributors
CAPT Joseph A. DiGuardo, Jr. (Joint Staff J39), Dr. Hriar Cabayan (Joint Staff J39); Mr. Michael Ceroli (USASOC); Dr. Rebecca Goolsby (ONR); Mr. Robert Jones (USSOCOM); Dr. Spencer Meredith (NDU); Mr. Randy Munch (TRADOC G-2); Dr. Laura Steckman (MITRE), Dr. Robert Taguchi (USASOC); LTC Scott Thomson (OUSD-P)
Download Publication