A World Emerging from Pandemic: Implications for Intelligence and National Security (Part 1 of 2)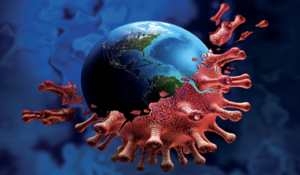 Speaker(s): Gradon, K. (Associate Professor, Department of Cybersecurity, Faculty of Electronics and Information Technology, Warsaw University of Technology (Poland)); Hashemi, L. (Researcher & Data Analyst, Terrorism, Transnational Crime and Corruption Center (TraCCC), George Mason University); Meo, S. (PhD Candidate, Public Policy, Schar School of Policy of Government, George Mason University); Vlahos, M. (Senior Fellow, The Institute for Peace and Diplomacy)
Date: 5 October 2022
Speaker Session Summary
SMA hosted a speaker session with Dr. Kacper Gradon (Associate Professor, Department of Cybersecurity, Faculty of Electronics and Information Technology, Warsaw University of Technology (Poland)), Dr. Layla M. Hashemi (Researcher & Data Analyst, Terrorism, Transnational Crime and Corruption Center (TraCCC), George Mason University), Ms. Sarah Meo (PhD Candidate, Public Policy, Schar School of Policy of Government, George Mason University), and Dr. Michael Vlahos (Senior Fellow, The Institute for Peace and Diplomacy) as part of its SMA NIU Panel Discussion.
The COVID-19 pandemic intensified many security threats that countries already faced as their citizens became increasingly isolated from each other. As isolation increased, disinformation became more prevalent across all forms of media, and criminal networks were forced to restructure their supply chains.
Dr. Gradon explained that during the beginning of the pandemic, Russian disinformation focused on highlighting the US's and other Western countries' failure to control the spread of COVID-19. These disinformation campaigns were part of a coordinated effort to make Western governmental institutions appear weak and to spread anti-Western sentiment writ large. When Russia invaded Ukraine, however, disinformation focusing on COVID-19 dissipated and was replaced by disinformation relating to Ukraine. The Kremlin used the same media outlets in support of both disinformation campaigns, targeting the same populations in Eastern Europe. Dr. Gradon cautioned that the tactics and tools used by Russia can be used by any state or non-state actor to create feelings of fear, anxiety, or distrust among a targeted population.
The pandemic was also a catalyst for an increase in frequency of online fraud, as well as the restructuring of criminal supply chains. During the pandemic, an increase in online fraud was correlated with individuals spending more time at home and online. These online scams included phishing emails, targeted disinformation, malware, and ransomware, Ms. Meo explained. Other troubling online criminal trends that became more prevalent during the COVID-19 pandemic included the increasing exposure of children to online predators, vulnerability of populations most at risk of human trafficking, and sales of counterfeit medical supplies—including personal protective equipment (PPE). Dr. Hashemi pointed out that these illegal activities jeopardize the health of both the workers making counterfeit PPE and the customers receiving the fake equipment. Moreover, criminal organizations had to restructure their supply chains, as people could no longer move freely across international borders to conduct business. Individuals' restricted movement across borders even curtailed drug trafficking during the first several months of the pandemic.
The COVID-19 pandemic was not only a catalyst for an increase in online crime, the restructuring of criminal supply chains, and an increase in the prevalence of disinformation, but it was also an antecedent of a major societal shift. Dr. Vlahos identified multiple historical case studies—including the Bubonic Plague and Spanish Flu—where drivers behind the collapse of societies' global network were present at the time of the initial outbreak. Both of these global pandemics were followed by decades of war and global economic hardships. The buildup to large societal breakdowns can take decades or centuries and frequently includes a consolidation of power among a small percentage of the population. The presence of a pandemic, however, can significantly accelerate these trends. Dr. Vlahos reassured the audience that, historically, there are also positive outcomes that can arise from the restructuring of global networks, including new social mobility, new leadership, and increasing personal freedoms. 
Speaker Session Recording
Briefing Materials