Beyond Decoupling: Biological Tech, Innovation, and Global Rivalry
February 2021
No Comments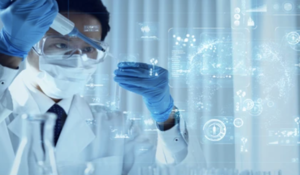 Speakers: DiEuliis, D. (National Defense University); Giordano, J. (Georgetown University, US Naval War College); Wright, N. (Georgetown University, University College London, and New America)
Date: 2 March 2021
Speaker Session Summary
SMA hosted a speaker session, presented by Dr. Nicholas Wright (Georgetown University, University College London, and New America), Dr. James Giordano (Georgetown University and US Naval War College), and Dr. Diane DiEuliis (National Defense University), as a part of its SMA NDU/PRISM Innovation Speaker Series.
Dr. Wright began the group's presentation by stating that commercial and government spending on research and development (R&D) related to human biology has increased. He explained that biotech, or technology that incorporates biological materials, has become a focus of many countries across the globe. This new focus on biotech is partially due to the decreasing cost and increasing ease of creation of products, such as vaccines, and partially as a result of new global events—most notably, the spread of the COVID-19 pandemic. In response to the pandemic, China and Russia have developed their own COVID-19 vaccines and have provided them to other countries as geopolitical tools. Dr. Wright argued that the US and its allies should work together to provide their own humanitarian assistance and vaccines to developing countries, and as a byproduct, increase their own global influence. He then used the AstraZeneca vaccine, which was created in the UK, as a case study for why cooperation among democratic allies is crucial. The UK is unable to compete directly with Russia and China in vaccine production; however, by cooperating with India, the UK has been able to increase its production capacity to the point where the UK's vaccine will now become the most widespread vaccine administered across the globe. To conclude his presentation, Dr. Wright stated that while it is unclear what biotech engineers would create, the vast amount of genetic data stored on applications such as Ancestry.com and hospital computers does present an active security threat.
Dr. Giordano began his remarks by emphatically stating that COVID-19 is not a man-made biological weapon. However, it is realistic to assume that countries have paid attention to each other's capabilities to defend against this biological agent. He asserted that the US did not appear to be well-prepared to deal with the initial outbreak of COVID-19, despite having participated in modeling and simulation exercises to prepare for the outbreak of a contagion. He then reiterated Dr. Wright's statement that China has used its ability to supply countries with medical supplies to create medical dependencies. China's autocratic political system has aided it in the creation of these medical supplies, in addition to biomechanical instruments and technology, because it can fuse actions from its private and government sectors together with ease. Dr. Giordano concluded by agreeing with Dr. Wright's assessment that the best way to counter China's ability to coordinate its efforts across its military, civilian, and economic sectors is for the US to cooperate with its allies.
Next, Dr. DiEuliis argued that the US's ability to innovate and create its own supplies has decreased since WWII. Part of the reason behind the US's weakened ability to innovate is many of the US companies responsible for innovation do not know how to work with the USG. However, Dr. DiEuliis believes that the US demonstrated that it could still significantly increase its ability to innovate and manufacture through its quick development and production of its multiple COVID-19 vaccines. She concluded by explaining that the USG will be more prepared to deal with biotechnical issues in the future if it finds a way to increase cooperation between the USG and the US private sector.
Speaker Session Recording
Note: We are aware that many government IT providers have blocked access to YouTube from government machines during the pandemic in response to bandwidth limitations. We recommend viewing the recording on YouTube from a non-government computer or listening to the audio file (below), if you are in this position.
Download Briefing Materials
Our speakers' recent National Interest piece can be found at https://nationalinterest.org/feature/3-tricks-strategically-competing-global-innovation-smackdown-178456