Blame, Sway, and Vigilante Tactics
February 2018
No Comments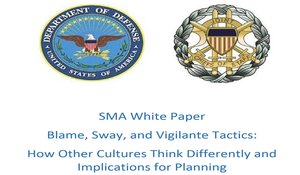 Blame, Sway, and Vigilante Tactics: How Other Cultures Think Differently and Implications for Planning
Speakers: Sutherlin, G. (Geographic Services, Inc.), Lai, T. (British Army), Martin, M. (5th MISB(A)), Sadiq, A. (University of Central Florida)
Date: 20 February 2018
Speaker Session Preview
SMA hosted a panel discussion as a part of its SMA CENTCOM Speaker Series, which included presenters Dr. Gwyneth Sutherlin (Geographic Services, Inc.), Brig. Tim Lai (British Army), SFC Matthew Martin (5th MISB(A)), and Dr. Abdul-Akeem Sadiq (University of Central Florida). Dr. Sutherlin introduced the session by stating the purpose of the paper, highlighting the varied backgrounds and perspectives of the contributors, and explaining the cognitive premises behind which the paper is based on. During the session, each of our speakers outlined their contributions to the paper, focusing on how planners should mitigate cognitive variations while interacting with individuals from different cultures. Our speakers concluded the session by recounting instances in their lives where a discreet cognitive variation (ex. a difference in perception of time, how one perceives and represents himself in space, etc.) has been apparent.
Speaker Session Audio File
To access a full audio file of the speaker session, complete with Q&A, please contact Ms. Nicole Peterson (npeterson@nsiteam.com).
Download White Paper