Capitalizing on the African Continental Free Trade Area (AfCFTA) to Advance Mutual US-Africa Prosperity
September 2022
No Comments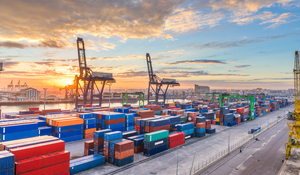 Speaker(s): Signé, L. (Associate International/Defense Researcher, RAND)
Date: 14 September 2022
Speaker Session Summary
SMA hosted a speaker session with Prof. Landry Signé (Executive Director & Professor, Thunderbird School of Global Management, Arizona State University; Senior Fellow, Brookings Institution) as part of its SMA "Anticipating the Future Operational Environment" (AFOE) Speaker Series.
Despite being considered economically hopeless during the mid-2000s, African countries and their trade have grown dramatically in recent years, attracting attention from China and other international actors. This vast economic growth led African countries to create the African Continental Free Trade Agreement (AfCFTA). AfCTA—which was officially signed in 2021—includes 55 member states and is the second largest free trade organization in the world behind the World Trade Organization. Professor Signé commented that several factors exponentially increasing African trade include: growing household consumption of goods, fast-paced urbanization, many cellphone users, and Africa's growing share of the global population. While there are many positive indicators for economic growth and inter-continental African trade, AfCTA faces several serious barriers to economic and trade growth.
African countries cumulatively account for less than 5% of global exports, a large funding gap for infrastructure, and there is strong over-dependency on international financing. Furthermore, tensions between countries—such as Rwanda and Uganda—will increase stress on continental trade. Policy makers in Africa's diverse states have the most influence on whether the AfCTA realizes its full potential, stated Professor Signé. Policies should focus on decreasing the difficulty of doing business, decreasing energy cost, and avoiding trade deflections. Africa is also playing a larger role in the global strategic competition, attracting more attention and economic deals from China. The US—whose share of African trade is being diminished by China—can increase its influence on the continent by creating mutually beneficial policies and trade deals itself.
Speaker Session Recording
To access the recording of this event, please email Ms. Nicole Peterson (npeterson@nsiteam.com).
Briefing Materials