China in Sri Lanka and the Political Economic Crisis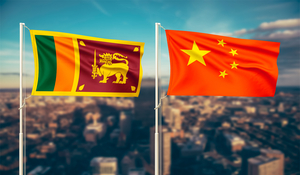 Speaker(s): Abeyagoonasekera, A. (The Millennium Project)
Date: 2 August 2022
Speaker Session Summary
SMA hosted a speaker session with Mr. Asanga Abeyagoonasekera (The Millennium Project) as part of its SMA INDPOPACOM Speaker Series.
Mr. Abeyagoonasekera began the presentation by stating that China's loans and investments in Sri Lanka are ultimately creating a debt trap. China is taking advantage of Sri Lanka's current economic crisis, mounting debt, and the negative effects of the COVID-19 pandemic on Sri Lanka's tourism-based economy to sign lucrative and opaque economic deals. These economic hardships were partly responsible for Sri Lankan leaders' ignorance of the debt trap's early warning signs. In addition to being opaque, Chinese loans are usually long-term and have a high interest rate. One such Chinese deal includes the 99-year lease on Sri Lanka's Hamabantota Port. Other contributing features to China's ability to create a debt trap in Sri Lanka are large import subsidizes, general democratic backsliding, and the heavy militarization of Sri Lankan society.
Debt trap diplomacy is a form of strategic diplomacy, Mr. Abeyagoonasekeraexplained. China is seeking to further support and influence other autocratic countries that align with their values and world views. In alignment with this goal, China's ruling party, the Chinese Communist Party (CCP), supports the Sri Lanka Podujana Peramuna (SLPP) party and its authoritarian tendencies. Huawei 5G is another tool that China utilizes to increase influence Sri Lankan society. Eighty percent of Sri Lankan telecommunication hardware is Chinese, which enhances China's ability to influence the media in Sri Lanka.
Several recommendations for the United States to help Sri Lanka mitigate Chinese influence include but are not limited to: a) increasing economic and political assistance from India; b) supporting a commitment to the rules-based order in Sri Lanka; c) helping Sri Lankan leaders recalibrate the nation's foreign policy; and d) fighting to support values of democracy, human rights, and anti-corruption measures in Sri Lanka.
Speaker Session Recording
Briefing Materials