Climate-linked Mobility in Africa: Opportunities and Threats
February 2023
No Comments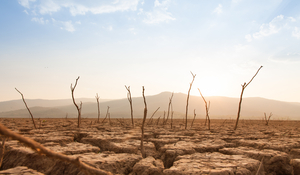 Speaker(s): Mbiyozo, A. (Senior Migration Researcher, Institute for Security Studies, Africa)
Date: 15 February 2023
Speaker Session Summary
SMA hosted a speaker session with Dr. Aimée-Noël Mbiyozo (Institute for Security Studies, Africa) as part of its SMA "Anticipating the Future Operational Environment" (AFOE) Speaker Series.
Climate change is forcing Africans from their communities as local resources and economic opportunities dry up. The African continent produces only 3% of global Co2 emissions; however, it suffers the most from the resulting climate change effects. Climate change effects on the African continent are forcing short-term intra-regional and inter-regional climate migration across Africa. The misleading perception of climate-migrants fleeing Africa is causing countries in Europe and other regions to create reactionary and protectionary immigration policies, stated Dr. Mbiyozo. This intra-continental migration will continue to increase as global warming and climate change affects intensify and resources become more scarce. There could be more than 85 million internal climate-related migrants if the average global temperature increases by 2.5 degrees Fahrenheit. Not all Africans being affected by climate change are able to move to communities with better access to the necessary resources. Many Africans—especially women—are caught in the poverty trap, making them immobile.
Men, rather than women, are more likely to be the household member who temporarily migrates. Women are more likely to be stuck at home and disproportionately suffer the effects of climate change. The youth, internally displaced people, and nomadic herds are also demographics that are currently or will be strongly affected by climate change. Dr. Mbiyozo emphasized that the youth demographic can greatly affect the way African countries deal with climate change by being politically active. Climate change is also driving Africans to cities, increasing urbanization, which can increase countries' overall development and GDP. However, the scarcity of resources in more rural areas can increase violent conflict and negatively affect countries' development. Several solutions to addressing climate change effects include more local engagement, youth involvement, and climate resilient infrastructure, among others.
Speaker Session Recording
Briefing Materials
Dr. Aimée-Noël Mbiyozo is a senior migration researcher with the Institute for Security Studies, Africa. Over the past decade, she has researched the intersection of migration with other prevailing issues such as climate change, gender, asylum law, human smuggling, violent extremism and citizenship. She has authored over one hundred intelligence, policy-oriented and research reports with the goal of informing migration policies and enhancing understanding of complex migration themes. Aimée-Noël's work has focused on high-risk and fragile environments in Africa and across west, central and south Asia. She has worked with international and regional institutions and participates in multiple forums and networks working to increase awareness and uptake of migration-related issues.