Communicative Power in a Globalized "Network Society"
December 2020
No Comments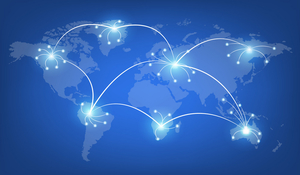 Authors | Editors: Cooley, S. (Oklahoma State University); Cooley, A. (Oklahoma State University); Hinck, R. (Monmouth College); Kitsch, S. (Monmouth College)
Quick Look Preview
Key Points
The economic and technological connectivities of globalization have created a "Network Society."
The Network Society is comprised of interconnected social, organizational, and strategic networks capable of sending information globally at the speed of human thought.
Connections between networks create information channels that give the Network Society its form.
Control of message meaning between connected networks is not possible.
Connections in the Network Society rely on trust.
Trust is a function of communication.
Networks have specific target points relevant to communication functions.
Strategic Insights
The Network Society is an approachable conceptualization of integrated global society that argues patterns of established communication create access points between actors, whose connection then fundamentally alters the structure of the overall system, as if weaving fabric.
Evaluating how to clearly communicate intention, value, and worth to another network is more important than attempts to control message meaning.
Locating communication access points between networks is critical.
To the extent that information can move at the speed of thought across the Network Society, an idea now has the power to alter the functional structure of a vast enterprise of integrated and coordinated human activity.
Download Publication