Countering Russian Strategic Approaches: Special Operations in Hybrid Warfare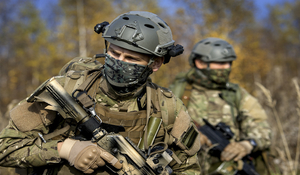 "Countering Russian Strategic Approaches: Special Operations in Hybrid Warfare"
Speaker: Meredith, S. (National Defense University)
Date: 14 June 2019
Speaker Session Preview
SMA hosted a speaker session presented by Dr. Spencer Meredith III (National Defense University) as a part of its SMA EUCOM Speaker Series. To begin, Dr. Meredith spoke about Russia's strategic identity. He stated that Russia is "not a normal state, but a very normal empire" due to its primary goal of gaining the power to control. Russia's mafia governance, expansionist empire, Messianic mission, and hope to become a "normal" state are also some of Russia's key identifying features. Dr. Meredith then discussed the challenges that US dominance and NATO expansion present in the eyes of the Kremlin. He stated that Russia believes these rival power centers are trying to expose Russian weakness and inflict serious blows to the Russian strategic identity. Furthermore, according to Dr. Meredith, Russia is not acting defensively. It was outmaneuvered by post-Cold War US actions across the globe and across a variety of domains, which consequently undermined the Kremlin's ability to "occupy a unique place in history." This sense of US/NATO-Russia rivalry drives Russia's need to compete for global influence. Dr. Meredith then described Russia's flexible strategic narrative, while highlighting the key role disinformation plays. He also identified some of Russia's core hybrid warfare concepts, including reflexive control, active measures as political warfare, offense dominance, camouflage, and surprise. He then specified some of the "special" equities the Kremlin uses in great power competition, as well as their current applications. Dr. Meredith also explained how the logic of hybrid warfare works in Russia's favor and identified the dynamics affecting future Russian special operations uses, namely its projected 1/3 population decline by 2050 and petropolitical issues. Next, he provided examples of potential future Russian special operations uses and discussed US/NATO special operations forces' (SOF) abilities to accomplish three primary tasks in great power competition: 1) conducting presence operations to raise operating costs, 2) building partner capacity and networking, and 3) building a deterrent effort of resilience, which would lead to resistance mobilization and reduce Russian opportunities on the board. To conclude, he spoke about irregular warfare writ large and emphasized that hybrid warfare will be here for the foreseeable future.

Speaker Session Audio File
To access an audio recording of the session, please email Ms. Nicole Peterson (npeterson@nsiteam.com).
Download Dr. Meredith's Biography and Slides