Discourse Insights into Future US-China Relations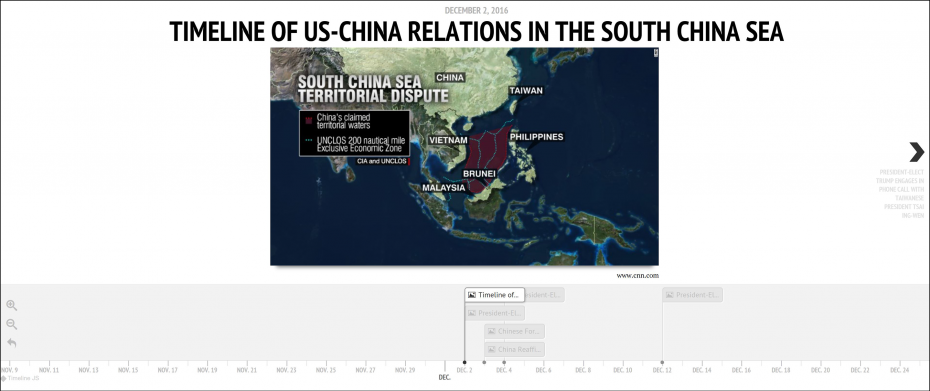 How Discourse Analysis Could Help Provide Insight into the Future of US-China Relations.
Author | Editor: Kuznar, L., Peterson, N. & Popp, G. (NSI, Inc).
The future of the US-China relationship seems increasingly uncertain, to say the least. Increased tensions between the two international powers were seemingly ignited when US President Donald Trump (President-elect at the time) engaged in a telephone call with Taiwanese President Tsai Ing-wen on 2 December 2016. The telephone call was a notable event, as it is believed to be the first reported official telephone communication between a Taiwanese president and US president (or president-elect) since the establishment of US-Beijing diplomatic relations in 1979.
Not surprisingly, the US-Taiwan telephone call did not sit well with Chinese leadership, who were quick to express concern. In fact, this conversation instigated a chain of back and forth commentary and provocative gray zone actions between the US and China, a softening of language, and the occurrence of seemingly productive communication.
A war of words, such as that between China and the US, often contains clues to future actions that adversaries may take. NSI's approach to discourse analysis is designed to uncover these clues and provide advance indicators and warnings (I&W) of impending political actions. NSI's approach to discourse analysis combines analysis of cultural context, coding of subtle themes and ways of using language of which speakers are often unaware, and quantitative analysis of discourse in order to mitigate the challenges of this field of study. The result is a culturally and contextually sensitive analysis of meaning that can capture I&W that an adversary is unaware he/she or they are revealing.
The South China Sea disputes have a long history. The protagonists frequently issue statements, and actions are a veritable fire hose of gray zone activities. This creates a large volume of data, permitting the statistical analysis of correlations between discursive I&W and the amount of gray zone activity occurring during any period of time. In this study, correlations between discursive I&W and the number of gray zone activities (Island building, aggressive nautical maneuvers, fly overs) over the next six months were monitored from 2002 to 2016.
The question remains: in the escalated war of words, what might we expect for the future? This document seeks to answer this question by offering a prediction based on current events and prior NSI discourse work of what we can anticipate in this time of uncertainty.
Download Publication