Emerging Strategic & Geopolitical Challenges: Operational Implications for US Combatant Commands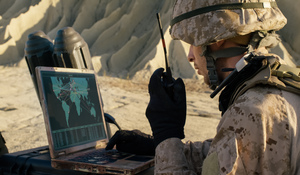 Speaker(s): Clark, M. (Director for Acquisition and Technology (J9), USCYBERCOM); Jansen, K. (Branch Chief, Deterrence Analysis and Outreach, Plans and Policy Directorate, USSTRATCOM/J5); Jenista, J. (Air Force Civilian, Joint Training, Exercise, and Wargaming Directorate (J7), USNORTHCOM & NORAD); Jones, R. (Senior Strategist, USSOCOM J5-JSOU Donovan Integration Group); Krakar, J. (Academic Coordinator, USEUCOM); Kucharski, L. (Analyst, Lawrence Livermore National Laboratory); Toguchi, R. (Chief, Concepts Division, Force Modernization Directorate (FMD), USASOC); Walker, D. (Policy Division Chief, USCENTCOM CCJ5); Wolfe, M. (Senior Operations Research Analyst, USAFRICOM)
Moderator: Elder, R. (George Mason University)
Date: 25 January 2023
Speaker Session Summary
SMA hosted a panel with Mr. Michael A. Clark (Director for Acquisition and Technology (J9), USCYBERCOM), Ms. Kayse Jansen (Branch Chief, Deterrence Analysis and Outreach, Plans and Policy Directorate, USSTRATCOM/J5), Mr. James "JJ" Jenista (Air Force Civilian, Joint Training, Exercise, and Wargaming Directorate (J7), USNORTHCOM & NORAD), Mr. Robert C. Jones (Senior Strategist, USSOCOM J5-JSOU Donovan Integration Group), Mr. Jimmy Krakar (Academic Coordinator, USEUCOM), Ms. Lesley Kucharski (Analyst, Lawrence Livermore National Laboratory), Dr. Robert M. Toguchi (Chief, Concepts Division, Force Modernization Directorate (FMD), USASOC), Col David W. Walker (Policy Division Chief, USCENTCOM CCJ5), and Ms. Michele K. Wolfe (Senior Operations Research Analyst, USAFRICOM) as part of its SMA General Speaker Series. 
Each of the US combatant commands faces different and complex challenges that require innovative and multilateral approaches. Having two near-peer competitors—Russia and China—has been a new development in the strategic competition environment for the US, Ms. Jansen stated. This more multipolar nature of the strategic competition environment increases the potential for simultaneous conflicts to occur, and in a complex and multipolar world, it is important for an actor to establish strong boundaries, she added. Mr. Jenista emphasized that the US's competitors also do not respect its functional boundaries, political boundaries, or domains. Aggressive actions can be successful in deterring antagonists, Mr. Clark added, and USCYBERCOM in particular has seen positive results from aggressive deterrence actions.
The US currently leads the current global world order. Mr. Jones stated that Russia has been weakened as a result of the war in Ukraine, and China is not a true peer competitor of the US. However, the US must still determine how it will stay at the top of the global leader board. Russia's recent invasion of Ukraine has also changed the thought calculus of many US combatant command leaders. Russia's use of information operations in Ukraine, for instance, has demonstrated that the US needs to account for the Kremlin's false claims of weapons of mass destruction and other disinformation operations, Ms. Kucharski stated. The time needed to effectively prepare to counter adversaries' offenses is increasing; however, the speed at which adversaries can launch attacks is also becoming more rapid. Dr. Toguchi explained that this is partly due to new and developing technology. Mr. Krakar emphasized that Russia's invasion of Ukraine additionally demonstrates its willingness to use overwhelming force, which in turn has led to a renewed desire for Sweden and other countries to join NATO. Ms. Wolfe added that Russia's invasion of Ukraine has not only impacted Western nations but African nations as well. The supply of fertilizer and food exports from Russia and Ukraine have been drastically reduced as a result of the war, increasing food insecurity on the continent and driving food prices up.
In addition to strategic competition with Russia and China, Col Walker explained that deterring Iran and countering violent extremist organizations remain critical US priorities, especially for USCENTCOM.
Speaker Session Recording
Also forthcoming!
Briefing Materials
Biographies:
Publication: https://nsiteam.com/emerging-strategic-geopolitical-challenges-operational-implications-for-us-combatant-commands/