Geoeconomics and Great Power Competition
February 2021
No Comments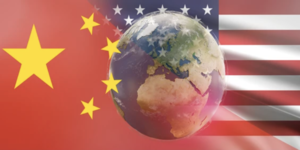 Speaker: Petraeus, D. (Partner and Chairman of the KKR Global Institute & Former Director of the Central Intelligence Agency; Commander of the International Security Assistance Force; Commander, US Forces – Afghanistan; Commander, US Central Command; and Commanding General, Multi-National Force – Iraq)
Date: 17 February 2021
Speaker Session Summary
SMA hosted a speaker session, presented by Gen (Ret.) David Petraeus (Partner and Chairman of the KKR Global Institute & Former Director of the Central Intelligence Agency; Commander of the International Security Assistance Force; Commander, US Forces – Afghanistan; Commander, US Central Command; and Commanding General, Multi-National Force – Iraq), as a part of its SMA INSS/PRISM Speaker Series.
Gen Petraeus began his presentation by stating that the competition between the US and China is not militarily- or economically-centric. Instead, the Sino-US competition is focused on governmental and international systems. Gen Petraeus stated that while the Chinese Communist Party's (CCP) control of China's domestic economy does give the nation some advantages, the US's free market provides advantages of its own. According to Gen Petraeus, a country's GDP drives its ability to invest in its military and defense systems. He stated that China's recent domestic economic growth, which has pulled millions of its citizens out of poverty, gives the CCP the ability to better compete with the US in a variety of domains. He then used the US falling behind China in its production of semiconductors as evidence of China's increased ability to compete. Nonetheless, Gen Petraeus believes that the US maintains an overall military and economic advantage over China. He also emphasized that the US should rely on its allies more than ever to counteract an increasingly powerful China.
Next, Gen Petraeus mentioned National Security Advisor Jake Sullivan's four points for dealing with China globally, which are 1) the internal strengthening of US governmental institutions, 2) increasing cooperation with our democratic allies, 3) acknowledging the need to invest in competition for primacy in future technologies, and 4) conveying with clarity and consistency the repercussions of China overstepping its geographic and political boundaries. 
Gen Petraeus continued his presentation by emphasizing that the erosion of the relationship between the USG and the largest US technology companies is a significant issue that the US is facing. He stated that this erosion has occurred mostly due to the Snowden leaks, which caused corporations to become wary of cooperation with the USG. Gen Petraeus argued, however, that that corporations in the US have some responsibility for safeguarding the US's national security.
Gen Petraeus then argued that China's domination of 5G network construction is another advantage that the CCP has over the USG. He said that the US does not have an equivalent to China's Huawei, which is the current global leader in constructing 5G networks. Recently, the US military has begun using its own 5G networks on military bases, but Gen Petraeus believes that this innovation should have occurred long ago and at a national level. He added that he believes the US did not create a national initiative to construct 5G networks because it would have been too similar to the industrial policy of the 1950s, which many believe is counterintuitive to encouraging a free market.
Gen Petraeus then emphasized that economic relations matter in geopolitics. He said that China has an advantage in spreading its political influence through economic initiatives because China's foreign economic activity, most notably its Belt and Road Initiative (BRI), is directly tied to the CCP. The majority of the US's foreign economic activity, on the other hand, occurs through private companies. However, private corporations in the US will likely not invest in something if they do not think they can yield a profit. Gen Petraeus believes that despite this, if the US cooperates with its allies, then it can offer an alternative source of investment for developing countries.
Gen Petraeus continued his presentation by stating that a strong subject of debate among members of the US military is how much the US should divest from legacy systems, such as aircraft carriers, and invest in new technology systems, such as artificial intelligence (AI). He added that the US military will ultimately need to strike a balance between incorporating new technologies and maintaining its military's ability to have a physical presence. The allocation of funding is a process that will rely on cooperation between the DoD and Congress.
Gen Petraeus finished his presentation by stating that the US military needs to maintain interagency relationships with foreign governments. He emphasized that part of the military's role in geopolitics is realizing that it cannot take contradictory stances to its ambassadors. Gen Petraeus commented that having a less bureaucratic system of command, as the US did during the invasion of Iraq under President Bush, was strategically advantageous, while having a more bureaucratic system makes conducting a military campaign more complicated.
Speaker Session Recording
Note: We are aware that many government IT providers have blocked access to YouTube from government machines during the pandemic in response to bandwidth limitations. We recommend viewing the recording on YouTube from a non-government computer or listening to the audio file (below), if you are in this position.
Download Briefing Materials