How America Can Seize Its Great-Power Opportunity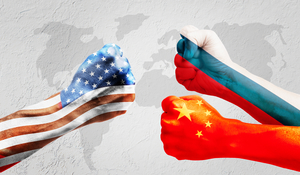 Speaker(s): Wyne, A. (Eurasia Group)
Date: 4 May 2022
Speaker Session Summary
SMA hosted a speaker session with Mr. Ali Wyne (Senior Analyst, Eurasia Group) as part of its SMA General Speaker Series.
Past US foreign security policies primarily focused on adversaries' capabilities and objectives rather than its own ability to project its desired messages and worldview. This is evident in the 2017 President's National Security Strategy and 2018 National Defense Strategy documents that focused more on great power competition (GPC) with Russia and China than previous versions. This is a shift from focusing on counterterrorism for the majority of the 2000s and 2010s. Mr. Wyne commented that the US has lacked a clear security objective since the end of the Cold War. However, the resurgence of China and Russia as global powers is helping the US find strategic clarity.
A definitive end to the great power competition with China and Russia—like the Cold War—would be with one side's collapse; although this is unlikely. The US is still the most powerful military and economic actor in the world; however, Russia and China are more economically sound and militarily capable that the Soviet Union ever was. Chinese and Russian actions and their relationship are limiting their future diplomatic options. China's wolf warrior diplomacy and Russia's ongoing invasion of Ukraine have been most damaging to their future soft power objectives. Mr. Wyne commented that while the US is competing with Russia and China, they all must cooperate to achieve mutual security objectives. Ultimately, the US must create a foreign policy that is immune to distraction, propaganda, focuses on the vision it wants to portray, and does not focus solely on its adversaries' capabilities. 
Speaker Session Recording
Briefing Materials
Biography: Mr. Ali Wyne is a senior analyst with Eurasia Group's Global Macro-Geopolitics practice. He is a term member of the Council on Foreign Relations, a David Rockefeller fellow with the Trilateral Commission, and a security fellow with the Truman National Security Project. He also serves on Foreign Policy for America's Board of Directors.