Conflict and Convergence in Eurasia (Integration)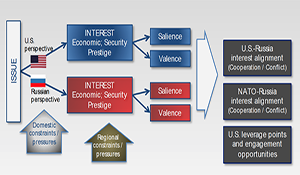 Drivers of Conflict and Convergence in Eurasia in the Next 5-25 Years — Integration Report.
Author | Editor: Bragg, B. (NSI, Inc).
Evaluating strategic risk in the Eurasia region over the next two to three decades is a complex challenge that is vital for USEUCOM planning and mission success. The depth of our understanding of the diverse set of political, economic, and social actors in the region will determine how effectively we respond to emerging opportunities and threats to US interests. A better understanding of Russia's priorities and interests, and their implications, both regionally and globally, will help planners and policy makers both anticipate and respond to future developments.
The official project request from USEUCOM asks that SMA "identify emerging Russian threats and opportunities in Eurasia (with particular emphasis on EUCOM AOR countries). The study should examine future political, security, societal and economic trends to identify where US interests are in cooperation or conflict with Russian interests, and in particular, identify leverage points when dealing with Russia in a "global context" Additionally, the analysis should consider where North Atlantic Treaty Organization interests are in cooperation or conflict with Russian interests" They also provided a list of questions covering: regional outlook; China; regional balance of power; Russian foreign policy; leadership; internal stability dynamics; media and public opinion; US foreign policy and regional engagement; NATO.
To address these questions, SMA brought together a multidisciplinary team drawn from the USG, think tanks, industry, and universities. The individual teams employed multiple methodological approaches, including strategic analytic simulation, qualitative analyses, and quantitative analyses, to examine these questions and the nature of the future operating environment more generally.
The diverse range of approaches and sources utilized by the individual teams working on the EUCOM project is one of the strengths of the SMA approach; however, it also makes comparison and synthesis across individual reports more challenging. For this reason, NSI developed a structured methodology for integrating and comparing individual project findings and recommendations in a systematic manner.
This report provides an overview of the regional issues identified by the US, Russia, NATO and EU in policy statements, speeches, and the media, and how they intersect with actor interests. It then presents the major themes arising from the integration of the team findings in response to USEUCOM's question, in particular the importance of understanding Russia's worldview, and the subsequent recommendations for reducing conflict and increasing the probability of cooperation with Russia.
Download Publication