Lost Seoul? Assessing Pyongyang's Other Deterrent
November 2022
No Comments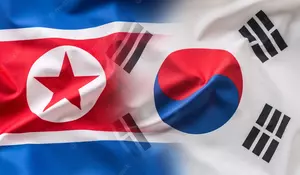 Speaker(s): Anderson, N. (Elliott School of International Affairs, The George Washington University); Press, D. (Dartmouth College)
Date: 29 November 2022
Speaker Session Summary
SMA hosted a speaker session with Dr. Nicholas Anderson (Assistant Professor of International Affairs, Elliott School of International Affairs, The George Washington University) and Dr. Daryl Press (Professor of Government, Dartmouth College) as part of its SMA INDOPACOM Speaker Series. 
North Korea poses many military threats to its neighbor, South Korea, including a massive artillery barrage on its capital city, Seoul. A conventional artillery barrage would destroy infrastructure and threaten the lives of civilians living in the metropolitan area. Dr. Press and Dr. Anderson built a model, mapping the loss of civilian life during three specific scenarios: a) a surprise attack by North Korea during peacetime, b) a North Korean attack during a military crisis, and c) a preemptive US and South Korean attack. To determine the total loss of civilian casualties, the model considers the known number of North Korean artillery batteries, their predicted rate of fire, and their predicted overall effectiveness among other variables. Dr. Press estimated that North Korea has around 300 artillery batteries that can currently bombard Seoul.
By running the model thousands of times, it was determined that realistic civilian casualties would be relatively low when compared to what is frequently predicted by the media. The media occasionally predicts between 30,000 to 40,000 casualties; however, the presenters' model predicts only 542 to 4,849 casualties. Dr. Press stated that the most likely scenario is a North Korean attack during a military crisis, and that the baseline for civilian casualties during this scenario is 2,457. Several factors causing the relatively low number of civilian fatalities includes South Korean and US counter battery measures and the abundance of natural underground shelters in a metropolitan city. The model predicts that most people will find shelter during the first twenty minutes of the barrage and that most of the fatalities will occur during the first thirty minutes. Factors such as the timing of the barrage during civilians' daily commutes will also influence how many civilian causalities occur. Dr. Press emphasized that it is likely that North Korea will quickly become desperate during a military conflict. This desperation may cause them to threaten the use of biological or nuclear weapons early on during the war as a bargaining chip.
Speaker Session Recording
Briefing Materials
Biographies:
Dr. Nicholas Anderson is an Assistant Professor of International Affairs at the Elliott School of International Affairs at The George Washington University. His research and teaching interests include great power politics, conventional military operations, technology and security, and East Asian security. He was previously a predoctoral fellow in the International Security Program at the Belfer Center for International Affairs at the Harvard Kennedy School. He is also an alum of the Summer Workshop for the Analysis of Military Operations and Strategy (SWAMOS). He received his PhD in Political Science from Yale University.
Dr. Daryl Press is a Professor of Government at Dartmouth College. His research and teaching focuses are on US foreign policy, deterrence, and the future of warfare. He has published two books, Calculating Credibility (2005) and The Myth of the Nuclear Revolution (2020), and his work has appeared in leading academic journals, such as International Security, the American Political Science Review, and Security Studies, as well as in the popular press including Foreign Affairs, The New York Times, and The Atlantic Monthly. Dr. Press is the co-founder of the Strategic Forces Bootcamp, in partnership with Sandia National Laboratories, and the Seminar on Conventional Force Analysis, a project to revitalize the field of open-source conventional force analysis. He received his undergraduate education at the University of Chicago and his PhD from the Massachusetts Institute of Technology.