Misinformation in Africa: An Overview of Current and Future Research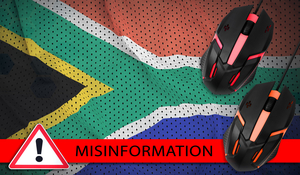 Speaker(s): Wasserman, H. (University of Cape Town, South Africa); Madrid-Morales, D. (University of Sheffield)
Date: 11 August 2022
Speaker Session Summary
SMA hosted a speaker session with Prof. Herman Wasserman (University of Cape Town) and Dr. Dani Madrid-Morales (University of Sheffield) as part of its SMA AFOE Speaker Series.
There is an increasing global concern relating to information disorder, including its effects on the Global South. Information disorder, as defined by the speakers, includes misinformation, disinformation, and malinformation. Much of the conversation surrounding information disorder focuses on social media; however, it is not a new phenomenon and has been historically prevalent in newspapers, television, and other forms of legacy media. Prof. Wasserman added that popular cultural forms of communication, like music and satire, have even fulfilled the journalistic function for some people, undermining the power of traditional journalism media even further.
Many Africans believe that they are being exposed to some form of disinformation, and this high level of perceived information disorder is causing Africans to become unsure of what to believe, weakening democratic elections and threatening fragile independent media organizations. On top of this, the COVID-19 pandemic has forced many independent media organizations to shut down, as they could no longer financially support themselves.
China's information operations in Africa have been of particular concern to Western states. China's 'Wolf Warrior' policy of using its media to influence global narratives allows China to influence countries' infrastructure development, personnel training, media production and distribution, direct investments, and public opinion. Dr. Madrid-Morales stated that China has even been able to counter narratives of racism within China by way of social media. He explained that combatting and reducing future information disorder should include increased fact-checking and media literacy initiatives, as well as coupling investigative journalism with widespread fact-checking. Increasing multi-stakeholder collaborations will also help communication across all areas of society and build communities' resilience to disinformation.
Speaker Session Recording
Briefing Materials