Outcompeting China in Space: How I Learned to Stop Worrying and Love Integrated Deterrence
February 2023
No Comments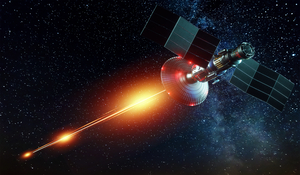 Speaker(s): Cheng, D. (Senior Fellow, Potomac Institute for Policy Studies; Senior Adviser, United States Institute of Peace); Klein, J. (Senior Fellow and Strategist, Falcon Research, Inc.)
Date: 28 February 2023
Speaker Session Summary
SMA hosted a speaker session with Dr. John "Patsy" Klein (Falcon Research, Inc.; George Washington University's Space Policy Institute) and Mr. Dean Cheng (Potomac Institute for Policy Studies; Users Advisory Group of the National Space Council) as part of its SMA STRATCOM Speaker Series.
The US and China are locked in a grand geopolitical competition that includes continuous use of deterrence against each other. Mr. Cheng emphasized that China and the US conceptualize deterrence very differently. The US primarily conceives of deterrence as a dissuasive tool used to preemptively stop an adversary's aggression, while the primary Chinese conceptualization of deterrence, wēi-shè, also includes coercion. China approaches wēi-shè holistically, using many different leverages of national power, such as economic deals. Sometimes, the US is unprepared to deter adversaries because it prepares to deter actors that mirror itself, commented Dr. Klein.
All deterrence is essentially a means to an end between states. States can pursue a multitude of strategies to achieve these ends, including accumulative and indirect approaches. Countries may also seek to deter each other through the threat of punishment or denial. China views escalation as a potential tool for deterrence; however, this increases the possibility that escalation will force unwilling countries into an open conflict.
Space is becoming a focus area of US-China competition. It is becoming more strategically important because it is where information is stored and transmitted. Space is becoming an increasingly important theatre to China because it is simply an important theatre to the US. In fact, China's greatest threats are from its adversaries in its own near abroad, including India, Taiwan, and other nations that have territorial claims in the South China Sea. Dr. Klein suggested that the US' best chance to deter China in space is to build upon its already large tactical advantages, creating deterrence by denial, and rendering any Chinese attacks futile.  
Speaker Session Recording
Briefing Materials
Dr. John Klein, callsign "Patsy," is a Senior Fellow and Strategist at Falcon Research, Inc., and also instructs space policy and strategy courses at George Washington University's Space Policy Institute, Georgetown University's Strategic Studies Program, and Institute of World Politics at the undergraduate, graduate, and doctorate levels respectively. He routinely writes on space strategy, deterrence, and the Law of Armed Conflict. He is the author of the books Understanding Space Strategy: The Art of War in Space (2019), Space Warfare: Strategy, Principles and Policy (2006), and the forthcoming book Fight for the Final Frontier: Irregular Warfare and Competition in the Space Domain (2023), along with a score of other book chapters and articles.
Mr. Dean Cheng is currently a non-resident Senior Fellow with the Potomac Institute for Policy Studies and a Senior Adviser with the US Institute of Peace. He recently retired after 13 years with the Heritage Foundation, where he was a senior research fellow on Chinese political and security affairs, and wrote on various aspects of Chinese foreign and defense policy. Prior to joining the Heritage Foundation, he was a senior analyst with the China Studies Division (previously, Project Asia) at CNA from 2001-2009. Before joining CNA, he was a senior analyst with Science Applications International Corporation (SAIC) from 1996-2001. From 1993-1995, he was an analyst with the US Congress' Office of Technology Assessment in the International Security and Space Division, where he studied the Chinese defense industrial complex. He is the author of the book Cyber Dragon: Inside China's Information Warfare and Cyber Operations (NY: Praeger Publishing, 2016), as well as a number of papers and book chapters examining various aspects of Chinese security affairs. Mr. Cheng has testified before Congress on various Chinese security issues. He has spoken at the USSTRATCOM Deterrence Symposium, the USSTRATCOM Space and Cyber Symposium, and the National Space Symposium. He has also lectured at the US National Defense University, George Washington University, and MIT.