Panel Discussion on the Gray Zone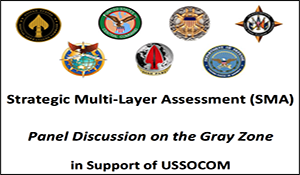 Panel Discussion on the Gray Zone.
Author | Editor: Popp, G., Canna, C., Bragg, B., Stevenson, J. & Kuznar, L. (NSI, Inc.).
Overview
At the request of the Commander, United States Special Operations Command (USSOCOM), the Strategic Multi-Layer Assessment (SMA) team initiated an effort, titled Gray Zone Conflicts-Challenges and Opportunities-A Multi-Agency Deep Dive Assessment, focused on assessing gray zone conflict. The overall objective of this SMA gray zone effort is to determine how the United States Government (USG) can identify, diagnose, and assess indirect strategies, as well as develop response options against, associated types of gray zone conflicts.
On 27 April, SMA held a Gray Zone panel discussion in Crystal City, VA. This panel discussion brought together multiple elements of the SMA coalition to present some of the work and key insights that have been produced in support of USSOCOM.
Download Publication