Regime Stability in Iran: The COVID-19 Effect
February 2021
No Comments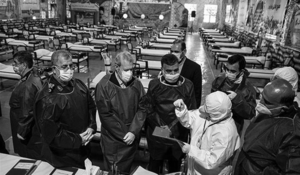 Author | Editor: Bragg, B. (NSI, Inc.)
Questions of Focus
[Q4] What, if any, effect will COVID-19 have on regime stability in Iran, both over the short and medium term?
Report Preview
Iran appears to have been hit hard by the COVID-19 virus, and there has been criticism both within and outside the country over the Iranian regime's response. The subject matter experts (SMEs) who responded to this question, however, do not think it likely that the pandemic will have novel direct effects on the stability of the Iranian regime, either in the short term or further out. At the same time, all were quick to point out that this is a difficult question. Not only is this the first global pandemic in the post-WWII era, and its global scope and duration remain to be seen (Brewer, Goldenberg, Nephew), but, as Dr. Ariane Tabatabai of the German Marshall Fund of the United States reminds us, "it is the Middle East, and in general you should never try to predict what will happen."
Instead, in assessing this question, the SMEs focus on drivers of social and political instability already present in Iran prior to the COVID-19 outbreak and how these may be intensified by the pandemic. The SMEs largely agree that the direct impact of COVID-19 on the stability of the Iranian regime will likely be negligible. However, the pandemic, and the regime's response to it, will exacerbate existing drivers of instability within Iran, as well as provide a justification for the regime to expand activities that buffer instability. Figure 1 shows the key drivers of instability and buffers of stability identified by the SMEs for the Iranian regime, and the associated actions or events that have and/or will intensify each (pre-COVID-19) driver and buffer. These are discussed in more detail below.
Download Publication