Russian Military Robotics and Artificial Intelligence Developments: An Assessment
November 2020
No Comments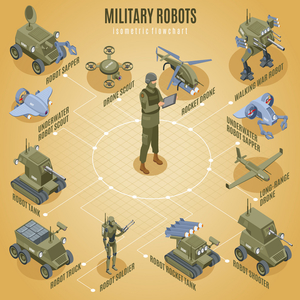 Speaker: Bendett, S. (CNA)
Date: 4 December 2020
Speaker Session Summary
SMA hosted speaker session presented by Mr. Samuel Bendett (CNA) as a part of its SMA EUCOM Speaker Series.
Mr. Bendett began his presentation by recognizing that new threats require new approaches to technological, intellectual, and human potential. The Russian Ministry of Defense (MOD), particularly over the last decade, has made major strides in developing new research and development, testing, and evaluation (RDT&E) initiatives. According to Mr. Bendett, Russian MOD leadership helped ensure that the Russian army made a technological breakthrough related to the adoption of "robotic complexes" and intensified artificial intelligence research, for instance.
Next, Mr. Bendett discussed unmanned aerial vehicle (UAV) developments in Russia over the past decade. He stated that the MOD organizes its drone fleet by companies that are divided into platoons based on the size and range of the UAVs they operate. This structure is designed to more easily facilitate command and control, as well as maintenance. Despite the developments that Russia has made with respect to UAVs, it recognizes its capability gap, Mr. Bendett stated. One of the starkest of Russia's missing pieces is a combat UAV—a developing technology which has received recent global attention. Furthermore, Russia is developing unmanned ground, underwater, and surface vehicles. According to Mr. Bendett, Russia wants to connect all of its unmanned assets together with manned assets into a global web, where vehicles coordinate actions and exchange information and data. Furthermore, Russians view artificial intelligence (AI) as a tool for humans to make the best possible conclusions in targeting, Mr. Bendett explained. AI is not intended to replace a human; it is intended to work with a human and help the human make decisions. In all, while there is a drive for greater autonomy in Russia, it is with a "human-in-the-loop" approach. Russia is also interested in developing domestic, high-tech expertise and the digitization and intellectualization of its armed forces, Mr. Bendett added. He concluded his presentation by stating that, ultimately, Russia understands the need for military autonomy. It also understands how the world at large sees unmanned systems and is incorporating the lessons it has learned into its tactics and procedures.
Speaker Session Recording
Note: We are aware that many government IT providers have blocked access to YouTube from government machines during the pandemic in response to bandwidth limitations. We recommend viewing the recording on YouTube from a non-government computer or listening to the audio file (below), if you are in this position.
Download Briefing Materials