Short-circuiting the OODA Loop: Brain-machine and Human-machine Interfaces in Defense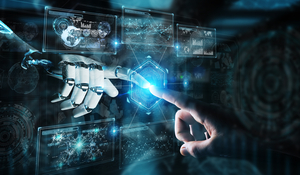 Speaker(s): Groen, M. (LtGen, US Marine Corps, Ret.); Kruse, A. (Prime Movers Lab); Wright, N. (Intelligent Biology, University College London, New America, and Georgetown University)
Date: 31 January 2023
Speaker Session Summary
Speaker Session Recording
Also forthcoming!
Briefing Materials
Biographies: LtGen (Ret) Michael Groen served over 36 years in the U.S. military, culminating his career as the Director of the Joint Artificial Intelligence Center, and the senior executive for AI in the Department of Defense. He previously served at the National Security Agency, overseeing Computer Network Operations, and as the Director of Joint Staff Intelligence (JSJ2), working closely with the Chairman of the Joint Chiefs, Secretary of Defense and Senior Leaders across the Department. Groen is an experienced Marine commander and multi-tour combat veteran. He is the author of, With the First Marine Division in Iraq, No Greater Friend, No Worse Enemy. Michael is an experienced change-agent, with a penchant for modernizing capabilities, integrating technology, and adapting organizations and cultures. He has earned Master's Degrees in Electrical Engineering and Applied Physics from the Naval Postgraduate School. Today, he seeks to inform transformational change in defense technology, intelligence and information capabilities against the backdrop of an accelerating pace of digitally enabled warfare, rapidly modernizing opponents, and challenges to American competitiveness. Michael grew up in Michigan and attended Calvin College. He is married with three grown sons.
Dr. Amy Kruse is a General Partner and Chief Investment Officer of Satori Neuro, a new fund at Satori Capital group headquartered in Dallas-Ft Worth.  The fund will focus on mental health, neuroscience, and human flourishing.  Prior to joining Satori, Amy was a General Partner at Prime Movers Lab where she led their life sciences investments in human augmentation. She continues to serve on the boards of Prime Movers Lab portfolio companies, Cognixion, Paradromics, Gilgamesh Pharmaceuticals, and Attune Neurosciences. Amy brings 20+ years of experience to venture investing spanning a broad array of companies and positions. She is formerly the Chief Scientific Officer at Optios, an applied neuroscience company. She built the company's scientific vision and completed acquisitions that resulted in a robust intellectual property portfolio. Amy also served as the Vice President and Chief Technology Officer at Cubic Global Defense overseeing innovation and the R&D portfolio across the entire defense enterprise. Early in her career, she served as a government civilian program manager at DARPA where she created and oversaw the Agency's first performance-oriented neuroscience programs, with a combined budget of over $300M. Amy is Founding Member of the Loomis Innovation Council and a Guest Lecturer for Singularity University. She earned a BS in Cell and Structural Biology and a PhD in Neuroscience from University of Illinois Champaign-Urbana, where she was awarded an NSF Graduate Fellowship.
Dr. Nicholas Wright combines neuroscientific, behavioural and technological insights to understand emerging technology and global strategy, in ways useful for policy. He is an affiliated scholar at Georgetown University, Honorary Senior Research Fellow at University College London (UCL), Consultant at Intelligent Biology, and Adjunct Fellow (Non-Resident) at the Center for Strategic and International Studies. He is currently writing a book for Pan Macmillan (UK) and St. Martin's Press (US) on the brain and war. He works closely with various parts of the US and UK Governments, including the Pentagon Joint Staff. On artificial intelligence (AI) he advises Europe's largest tech company, SAP. DARPA used his definition of Grey Zone conflict for their recent AI programme on the Gray Zone. Foreign Affairs chose his piece on AI and the global order for its Top 10 of 2018 on the net. He edited a book on Artificial Intelligence, China, Russia and Global Order (Air University Press, 2019). He has led Track 1.5 dialogues, for example with participants from the White House, UK Cabinet Office and Australian Prime Minister's office, as well as with the Australian and Canadian Government Chief Scientists. He previously worked in Nuclear Policy at the Carnegie Endowment for International Peace, Washington DC; in functional brain imaging at UCL and in the Department of Government at the London School of Economics; and was a clinical neurologist in Oxford and London. He has many academic (e.g. Proceedings of the Royal Society), general (e.g. the Atlantic, Foreign Policy, Foreign Affairs), and policy publications (e.g. www.intelligentbiology.co.uk) and has appeared on the BBC and CNN. He has a medical degree from UCL, a BSc in Health Policy from Imperial College London, Membership of the Royal College of Physicians (UK), and an MSc in Neuroscience and a PhD in Neuroscience both from UCL.