Sino-Russian Relations: Articulating a World Order
February 2023
No Comments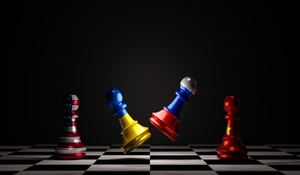 Speaker(s): Garcia, Z. (Associate Professor of Security Studies, Department of National Security and Strategy, US Army War College); Modlin, K. (Instructor, Western Kentucky University)
Date: 1 March 2023
Speaker Session Summary
SMA hosted a speaker session with Dr. Zenel Garcia (Associate Professor of Security Studies, Department of National Security and Strategy, US Army War College) and Dr. Kevin Modlin (Instructor, Western Kentucky University) as part of its SMA INDOPACOM/EUCOM Speaker Series.
China and Russia are frequently considered to have an alliance against the West; however, their actual relationship is one of convenience. China and Russia's friendship has only been in place for a short time. Historically, the two countries have been rivals, disputing over territories and boundaries. The intensity of these disputes has weakened since the mid-1990s, however, due to the nations' new political relationship. Their present-day partnership is based on the desire for a multi-polar world that weakens the US' status as a superpower. However, their vision differs on how this multi-polar world order is comprised. The difference between China's and Russia's world view is the role that each other's political rivals, other than the US, would play.
The ongoing war in Ukraine is testing the limits of China's relationship with Russia. Russia's invasion of a sovereign nation is in contrast with China's assertion that a more multi-polar world will result in more stability. Russia and China have a more of a transactional relationship than an alliance, asserted Dr. Modlin. They remain unwilling to make long-term or deep commitments to each other. In fact, many of China's opportunities—especially economic opportunities with European countries—go against Russia's strategic interests. Ultimately, Russia and China want a world in which they have more political options and flexibility. Dr. Garcia commented that both Russia and China are especially active in their political outreach to countries in the global south (i.e., Africa and South America). This political outreach undermines the US' long-term political influence, strengthening their own in the process. 
Speaker Session Recording
Briefing Materials
Dr. Zenel Garcia is an associate professor of security studies in the Department of National Security and Strategy at the US Army War College. His research focuses on the intersection of international relations theory, security, and geopolitics in the Indo-Pacific and Eurasia.
Dr. Kevin Modlin is an instructor at Western Kentucky University, where his research interests focus on security studies and international political economy. He holds a PhD in international relations from Florida International University and a master's degree in economics from Western Kentucky University.