Achieving Coalition Goals in Iraq/Syria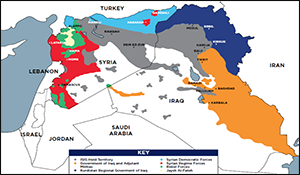 Question (Sim#3): What must the coalition do in the information environment to achieve its objectives in Iraq and Syria and how can it deny adversaries the ability to achieve theirs? Part 2
Author | Editor: Sutherlin, G. (Geographic Services Inc).
We have acknowledged that the enemy has been very agile in the information environment thus far. It has developed a clear message, understands the most affective narratives to reach audiences, and can shift tactics in messaging without shifting message. Our adversary has demonstrated this with propaganda and recruitment material in the information environment. Each contributor, directly or indirectly, identifies that coalition engagement in the information environment is not as robust because we lack the same cohesion of message, understanding of the appropriate narratives, understanding of audiences, and ability to shift tactics in the information space (such as move between dialects or languages) without losing fidelity to our core mission message. Each contributor offers recommendations, from the high-level objectives to on-the-ground implementation, on how we can begin to more successfully leverage the information environment in pursuit of overall coalition objectives.
Vernie Liebl advises that the US and allies must first define the 'coalition objectives' that will drive our engagement in the communication space. MAJ Robert Payne, LTC Brian Steed, and SGM Sohail Shaikh give this idea form with a plan to develop a Campaign Mission Narrative to articulate these objectives across the CENTCOM AOR. David Grompert expresses a clear and simple communication objective– to concentrate on conveying to local audiences that the US and allies offer peace and stability, a chance to return to daily life without constant threat; this contrast to ISIL should be our messaging focus. Defining or agreeing on an objective for the information space is, as Liebl noted, not a straightforward exercise. The discussion from inaugural USASOC-LUCAS (Laboratory for Unconventional Conflict Analysis and Simulation) symposium entitled After ISIL: Stability and Spillover in December 2016 illustrates the ongoing challenge—a challenge which leads to an unclear mission narrative.
Assumptions of an inherent, universal appeal to US values of "life, liberty, and the pursuit of happiness" were countered by arguments that those ideals may exist broadly, but get interpreted and acted upon so differently in different contexts as to make comparisons non- actionable. (Spencer Meredith, ExecSum) Payne, Steed and Shaikh describe the lack of mission narrative cohesion as a challenge to mission objectives. They outline a remedy to create and implement a Campaign (MSN) Mission Narrative for CENTCOM to include Strategic, Operational, and Tactical applications. The purpose is to overwhelm the adversary's narrative across the AOR and prevent fractures in mission narrative that can be exploited by the enemy.
A key stage in the development of their (MSN) is understanding the relevant narrative forms that will be affective to local audiences and also identifying viable partners to convey that message. Liebl contends it is essential to recognize there are multiple information environments in the region. He suggests the most pressing analytic challenge is to understand these various environments with their distinct socio-cultural factors including religion and ethnicity. Peter Welby provides a valuable resource with a comparative (English and Arabic) narrative analysis of ISIL and other jihadist propaganda. He examined how a group is able to, "tactically shift its narrative emphasis to suit its target audience." His research points towards how we can observe, learn, and adapt our own approach to audience engagement and narrative development for a multilingual information environment. Clark McCauley presents another resource to help understand local narratives and audiences. He describes the role of emotion in conflict zones for motivation. He also unpacks identity narratives in conflict and argues that the Sunni/Shi'a divide is more of an ethnic conflict that a religious one.
The contributors suggest continued analysis of information environment, audience, and narrative and a way forward to implement analytic findings for the purpose of making the information environment a means to support coalition objectives.
Contributing Authors
Gompert, D. (RAND), Liebl, V. (Prosol Associates, USMC Center for Advanced Operational Cultural Understanding), Payne, R. (United States Military Training Mission, Saudi Arabia), Shaikh, S. (Asymmetric Warfare Group), Steed, B. (US Army Command and General Staff College), Welby, P. (Centre on Religion & Geopolitics), McCauley, C. (Bryn Mawr College), Meredith, (National Defense University)
Download Publication