SMA's Future of Global Competition & Conflict (GCC) Russia Panel Discussion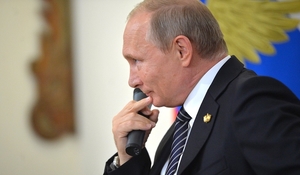 Future of Global Competition & Conflict (GCC) Russia Panel Discussion
Author | Editor: Jafri, A. (NSI, Inc.)
Executive Summary
On 8 May 2019, the Strategic Multilayer Assessment (SMA, Joint Staff, J39) office, with the support of the Office of the Director of National Intelligence (ODNI) and National Defense University (NDU), convened a panel discussion on Russia in support of the SMA Future of Global Competition and Conflict effort. The scope of the day's event was Russian activities in the Gray Zone, its perception of global competition and conflict worldwide, and its long-term growth trends, economic activities, and diplomatic affairs. The event convened speakers from government, think tanks, and the academic community; each speaker offered prepared remarks, and then assembled to debrief and take questions.
Beginning the proceedings was Mr. Dan Flynn, Director of the IC Net Assessments Division within the Office of the Director of National Intelligence. He introduced the key themes of the day's event, among them, Russian strategy, economic statecraft, Gray Zone activities, and the future. Mr. Gary E. Phillips of US Army Training and Doctrine Command (TRADOC), Assistant DCS G2, offered Opening Remarks. His comments reflected on Russian malign activities, including its behavior in the 2016 election. He noted Russian insecurity, and encouraged a critical analysis of the Kremlin's behavior.
Offering up a comprehensive accounting of Russia's complex demography, the distribution of its people, its military structure, and geographical contiguity was the first speaker, Brigadier General (ret) Peter Zwack of National Defense University. Each of these factors contributed to an overarching insecurity that the Kremlin manipulates to shore up domestic support. Since the government functions as a high-end autocracy, it often resorts to headline-grabbing adventures to fulfill the social contract with its people that it has long ignored, as evidenced by its governance failures. He stressed that the Russian state finds itself at war with ideas rather than traditional military threats. Internationally, Moscow enjoys escalation dominance in its near-abroad, but is constrained in its economic, demographic, and conventional military capabilities when looking at Russia's 11-time zone vastness, particularly in the currently peaceable Far East opposite China. Broadly, Brig Gen (ret) Zwack expects the Kremlin to continue to irritate and frustrate US global ambitions.
Continuing on the theme of Russian insecurity and the resultant impact on state policy was Dr. Celeste Wallander of the US-Russia Foundation. She further explored the social compact, and applied to different types of governance, comparing pluralistic democracies and autocracies. She extended her analysis to the particular brand of Russian President Vladimir Putin. She defined Putinism as a non-ideological brand of political power based on personal relationships. Many of these personal relations, she clarified, are those forged in 1990s St. Petersburg, as Putin was beginning his political career. The pursuit of stronger economic ties informs why Russia was so aggressive in forming the Eurasian Economic Union. Militarily, Dr. Wallander asserted, Russia is a revisionist power who seeks to change the rules of the international order. She also explained Russian escalation dominance in detail, and encouraged the attendees to avoid imprecise verbeage to describe this.
Concluding the first group of speakers was Dr. Elena Kovalova of the National War College. She said that Russia's strategic behavior is based on four major assumptions: that Russia is a great power, that it is a "besieged fortress," that it is an "indispensable" European power, and the the end of the Cold War brought the humiliation of Russia. Further, she suggested that Russia's Gray Zone activities signal its own insecurity. The opacity of Gray Zone activities overstates the impression of Russia's global reach, its ability to alter the liberal international order and influence world politics, as well as its capabilities and its technological advances; additionally, the ability to camouflage within the Gray Zone allows Russia to disguise its areas of concentration. Additionally, she asserted that Russia seeks to destroy political, economic, and military institutions in Europe, such as NATO and the European Union (EU). This reflects a Russian belief that it is an essential European power, and therefore is owed a seat at the table. To further this narrative, Dr. Kovalova cited narratives emerging from Russia about the true intent of its involvement in Syria and Libya, namely that Russia is securing consistent energy access to Europe. Additionally, Russia has continued its European charm offensive on issues related to the Arctic; here, Russia is said to have a captive audience. She concluded her remarks by noting that Putin's constitutional term ends in 2024, and urged attendees to examine the development of the Russian relationship with Belarus at that time; there might be, according to her, an opportunity for Putin to establish a new unified state, thus creating preconditions for a new term as the president of a newly created state
The idea of Russian expansionism as destiny was introduced by Dr. Angela Stent of Georgetown Univeristy. She introduced several Russian strategic objectives of Russia, namely ensuring that Russia has a seat at the table, a conferring of respect by the international community onto Russia, its right to a sphere of privilege, and the legitimization of its own national interests. Further, she suggested, Russia seeks to replace the existing world order with one in which Russia enjoys more agency. Dr. Stent also highlighted specific activities that the Kremlin has organized to further these objectives. Among them were playing on existing societal divisions in the United States, delegitimizing democratic governance, providing a lifeline for embattled authoritarians abroad, and pursuing a strategic partnership with China.
Mr. Michael Kofman of CNA discussed conventional deterrence and the extension of those principles to Gray Zone activities. He also examined Russian attitudes towards Europe, and assessed that Russia feels that not only does it not have a stake in the current continental security structure, NATO is a projection of US military power, which Moscow resents. With respect to its near abroad, Mr. Kofman noted that the current generation of Russian strategic thinkers do not see these states as truly independent from Russia. Those individuals, he suggested, also understand Russia as flanked by a steadily creeping Europe from the West, and an aggressive China on the East. Strategically, Russia seeks a normalization of its gains, reflecting the USSR's status during the Détente period of 1972- 1979. Mr. Kofman also explained Russian views on conflict and escalation.
Concluding the prepared remarks was Dr. Spencer Meredith III of National Defense University who presented slides on Russia's strategic dimensions. He echoed points on Russian instability, and suggested that its government operates as a mafia, but with imperial DNA. Operationally, Russia's ability to cloud the information domain underpins its hybrid warfare conduct; additionally, he highlighted the belief that hybrid warfare is full-spectrum. Because of this assertion, Dr. Meredith outlined the importance of the special operations community on both sides. Russia will likely be forced to think creatively about its hybrid warfare activities, because it faces some long-term challenges, such as its demographic time bomb, the shift in its relative power in energy markets due to the fracking revolution, and increasing resilience to its activities by its adversaries.
Mr. Jason Werchan of United States European Command (USEUCOM) convened the speakers for a moderated question-and-answer session. A question on possible actions by the US, with a specific focus on the military element of national power, to expand the competitive space, and win in the Gray Zone highlighted the necessity of US allies to help further these objectives, and a keen understanding of escalation management. Additionally, speakers spoke on the importance of perception to Russian narratives. Regardless of the intent, nearly any US action will be understood by Russia to be destabilizing, and advocating regime change. Broadcasting Russian successes will not necessarily undermine the US position, speakers agreed, because power is best assessed as a balance sheet, and exposing shortcomings will only encourage future best practices. Additionally, the group tended to agree on the necessity of using precise language with specific definitions when discussing the issues highlighted in the day's sessions. Finally, speakers examined Central Asia as a potential arena for the United States to confront Russia (and China). Though they all admitted that the United States was the junior partner of the three, several of them highlighted potential areas of cooperation with partner states that could help achieve US objectives.
Download Publication