The Future of Nuclear Weapons, Statecraft, and Deterrence After Ukraine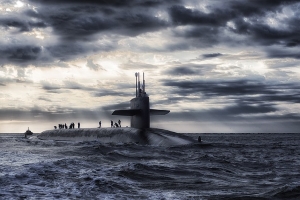 Speakers: Thomas Shattuck (Perry World House, University of Pennsylvania)
Date: 17 October 2023
Speaker Session Summary
The narrative surrounding nuclear deterrence and statecraft has changed since the beginning of Russia's invasion of Ukraine; particularly Vladimir Putin's threat of a nuclear strike against Ukraine. Putin's overt threat of a nuclear strike has caused experts to ask how the US and other democratic actors can promote responsible nuclear statecraft. In spring of 2023, the Perry World House at the University of Pennsylvania hosted a one-day workshop with esteemed panels of experts. In addition to their discussions, the panelists responded to a series of survey questions. They were asked if they believed Russia would be likely to use a nuclear weapon, and topics relating to nuclear statecraft including, the revival of the Joint Comprehensive Plan of Action (JCPOA), nuclear cooperation between the US and China, and the likelihood of the ROK and Japan developing their own nuclear weapons.
Perry World House also re-surveyed in September. People's opinions changed during the few months between surveys. Some changes in the respondents' opinions were more drastic than others. For example, most respondents in both surveys believed that Russia was at least unlikely to use a nuclear weapon in Ukraine. However, those that believed Putin's threats of using a nuclear weapon is having a strong impact on the war in Ukraine more than doubled between April and September. Several other outcomes from the survey are that 95% of respondents believe that the JCPOA will not be revived, that most respondents believed the ROK will eventually build a nuclear weapon, and that it is unlikely that China and the US will participate in nuclear arms reduction negotiations during the next five years. The report offers more details from the key takeaways from the workshop. First, better analysis of nuclear threats and clarification of the role of nuclear deterrence is necessary. Also, conventional and nuclear responses should not be coupled. They also reiterated that the US-China crisis management tools are lacking and many key countries need to better educate their populace on nuclear issues and non-proliferation.
Speaker Session Recording
Briefing Materials:
Report: https://global.upenn.edu/perryworldhouse/future-nuclear-weapons-statecraft-and-deterrence-after-ukraine
Slides:
Biography: Thomas J. Shattuck is the Global Order Program Manager at the University of Pennsylvania's Perry World House. His research focuses on cross-Strait relations, Taiwanese and Chinese domestic and foreign affairs, Taiwan's semiconductor industry, and the US role in the Indo-Pacific. Shattuck is a Non-Resident Research Fellow at the Global Taiwan Institute, Non-Resident Fellow at the Foreign Policy Research Institute, member of Foreign Policy for America's NextGen Foreign Policy Initiative, and the Pacific Forum's Young Leaders Program, where he participated in the 2022 US-Philippines Next-Generation Leaders in Security Initiative. He is the former Deputy Director of the Asia Program at the Foreign Policy Research Institute (FPRI). In 2022, he was one of 39 civilians selected to participate in the Department of Defense's Joint Civilian Orientation Conference. He was also a member of the 2019 class of scholars at the Global Taiwan Institute, receiving the Taiwan Scholarship. His articles have appeared in Barron's, Global Taiwan Brief, Defense Security Brief, Washington Post, National Interest, American Interest, Divergent Options, Taipei Times, and Philadelphia Inquirer, as well as the peer-reviewed journals Orbis: A Journal of World Affairs and Strategic Vision. He received a BA from La Salle University in history and English writing and an MA in international studies from the National Chengchi University. He was a recipient of the Republic of China Ministry of Education Taiwan Scholarship, receiving a full scholarship for his graduate education.