Russian Nuclear Orthodoxy: Religion, Coercion and the Russian Way of War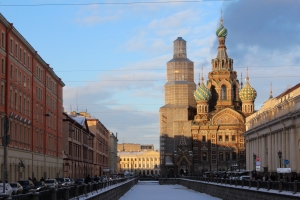 Speaker: Prof. Dmitry Adamsky (Reichman University)
Date: 19 July 2023
Speaker Session Summary
The Kremlin is blending its nuclear discourse, politics, and theological beliefs, changing the domestic perception in Russia regarding just nuclear war and nuclear escalation with the West. Prof. Adamsky stated that the Kremlin has been integrating the Russian Orthodox Church in its military campaigns for many years. The use of the Orthodox Church in Russian military operations has traditionally been to provide spiritual and psychological support for troops, bolstering individual and unit moral while reaffirming Russian soldiers' belief in their cause. The Kremlin also uses Orthodoxy to justify its military activities to other state leaders, depicting Russia's conflicts as good against evil. However, the war in Ukraine is forcing the Russian Orthodox Church to address the cognitive disconnect many Russians feel when fighting fellow Orthodox Christians in Ukraine.
Russian president, Vladimir Putin, frequently uses religious rhetoric when referring to Russia's military and the war in Ukraine, invoking themes such martyrdom, sacrifice, and winning at all costs. The Kremlin's targeted integration of the Orthodox Church in its political and warfighting institutions is allowing it to change its first use policy, develop its just war theory, and make the use of nuclear weapons against its enemies as morally, religiously, and ethically acceptable. Prof. Adamsky predicted that when the US and other Western countries carryout nuclear deterrence against Russia in the future, they will be deterring a government heavily intermingled with theology from the Orthodox Church. Also, discourse in Russian media and society regarding winning at all costs and the use of nuclear weapons have taken a concerning turn. Prof. Adamsky asserted that while the use of nuclear weapons is still considered a last resort by most Russians, its use as a final measure to defeat Russia's enemies is becoming more accepted and less taboo.
Prof. Adamsky's presentation builds off his book, Russian Nuclear Orthodoxy: Religion, Politics, an Strategy, published in 2019.
Speaker Session Recording
A recording is only available to US government employees via Intelink video. Please email mariah.c.yager.ctr@mail.mil for assistance and additional information.
Briefing Materials
Biography: Dmitry (Dima) Adamsky is a Full Professor at the School of Government, Diplomacy and Strategy at Reichman University and the Head of the BA Honors Track in Strategic Studies. Prior to joining the school, he has worked at Harvard and Columbia Universities. Prof. Adamsky has published extensively on military innovations, strategic culture, nuclear strategy and the US, Russian and Israeli national security in the academic and policy journals – Foreign Affairs, Journal of Strategic Studies, Security Studies, Survival, IFRI, Studies in Conflict and Terrorism, Russian Analytical Digest, Intelligence and National Security, Defense and Security Studies, Washington Quarterly, Problems of Post-Communism, and Cold War History. His books Operation Kavkaz and The Culture of Military Innovation (Stanford UP) earned the annual (2006 and 2012) prizes for the best academic works on Israeli security. His book Russian Nuclear Orthodoxy won the 2020 International Studies Association best book award in the category of religion and international relations. His forthcoming books are The Russian Way of Deterrence: Strategic Culture, Coercion and War (Stanford UP, 2023) and The New Commissars: Militarization of Politics and Politization of Military in Russia (Cambridge UP, 2024). Prior to academic career, in his positions in the Israeli Ministry of Defense and the IDF, Prof. Adamsky has carried out intelligence analysis and strategic policy planning. In the latter capacity, he served as an assistant secretary of the committee charged with formulating Israel's national security concept.