Beyond the Wire: US Military Deployments and Host Country Public Opinion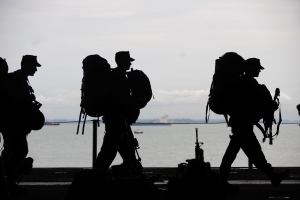 Speaker: Dr. Carla Martinez Machain (University at Buffalo, SUNY)
Date: 27 June 2023
Speaker Session Summary
The presence of a US military base in a host country naturally increases interactions between that host country's citizens and US military personnel. These interactions occur in many countries, partly because the US has maintained a 25% deployment rate since the end of WWII. Host countries—especially the local communities around the base—get a significant economic boost. US military personnel often try to use local contractors. However, there are many factors that affect the local sentiment towards US military personnel in these countries. Dr. Martinez Machain identifies these factors by using survey data from 14 countries in her new book, Beyond the Wire: US Military Deployments and Host Country Public Opinion.
The survey data shows that host countries' civilians have a generally positive opinion of the US military, US civilians, and the US government. However, their opinion of the US government is not as positive as their opinion of US civilians and military personnel. Those who have had interactions with US military personnel are more likely to have a positive opinion of the US military. Only around 10% of survey respondents have had contact with the US military. Dr. Martinez Machain commented that surprisingly, citizens who are victims of crimes committed by US serviceman are not more likely to say something negative about the US military. However, if someone in their friend group is victimized by a US serviceman, then they are more likely to voice a negative opinion of the US military. Also, despite US military bases being placed in minority communities, minorities in the host countries do not have a more negative opinion of the US military when compared to the majority. Dr. Martinez Machain acknowledged that there is a strong variation of overall positive sentiment between host countries; however, the overall trend is the same. She emphasized that factors within the US armed services, such as increasing diversity, are also playing a role in the overall level of positive sentiment toward US military personnel abroad.
Speaker Session Recording
Briefing Materials
Slides:
Book link: Beyond the Wire: US Military Deployments and Host Country Public Opinion (BRIDGING THE GAP SERIES): Martinez Machain, Carla, Allen, Michael A., Flynn, Michael E., Stravers, Andrew: 9780197633410: Amazon.com: Books
Biography: Carla Martinez Machain is a Professor of Political Science at the University at Buffalo. She received her Ph.D. in Political Science from Rice University in May 2012. She also received her B.A. from Rice University, in Economics and Political Science, in 2007. Martínez Machain's research (funded by the Department of Defense's Minerva Initiative and the Army Research Office, among others) focuses on foreign policy analysis, with a focus on military policy and international conflict. Her book with Oxford University Press is titled Beyond the Wire: U.S. Military Deployments and Host Country Public Opinion. Her work has appeared in various journals, including the American Political Science Review, the Journal of Politics, and the Journal of Conflict Resolution. She has also written for policy-oriented outlets such as the Washington Post's Monkey Cage blog and The Conversation. Martínez Machain has also served as region President for ISA Midwest and Section Program Chair for the SSIP section of the ISA. She currently serves as part of the editorial team for the ISA journal International Interactions.