Putin and the Psychology of Nuclear Brinksmanship
September 2023
No Comments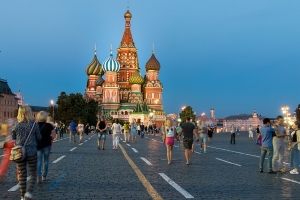 Speakers: Dr. Rose McDermott (Brown University); Dr. Paul Slovic (Brown University)
Date: 28 September 2023
Speaker Session Summary
The world has not experienced a global military conflict since World War II. Countries' possession of nuclear weapons is frequently thought of as a contributing factor to this seven-decade peace. However, Dr. McDermott and Dr. Slovic asserted that this peace has less to do with countries' possession of nuclear weapons and more to do with countries not being faced with true existential crises. Dr. Slovic commented that another reason for a potential miscalculation of nuclear weapons' influence on deterrence is that the science of risk taking and decision making has historically been done by philosophers and scientists who do not work closely with military leadership. However, analysis of how people make decisions, including their psychological biases, can shed light on the effectiveness of nuclear weapons as a deterrent. Unfortunately, phenomena like psychological numbing and virtuous violence make it more likely that a state leader—especially a personality driven leader—to offensively use their country's nuclear arsenal.
Personality driven leaders are usually the heads of autocratic states. Dr. McDermott commented that this creates a paradox, where these leaders are more likely to want nuclear weapons and less able to build them or acquire them because of their state's weak bureaucratic institutions. However, these leaders tend to be more dangerous and less predictable when they do acquire nuclear weapons. Personalistic leaders are usually surrounded by an atmosphere of anxiety and fear, creating a circle of "yes men" who relay bad information to stoke their leader's narcissism and protect themselves. Russian president, Vladimir Putin, is one such personalistic leader who controls one of the world's largest nuclear arsenals. Putin is also in a state of heightened paranoia, increasing the fear of his potential use of nuclear weapons. The speakers emphasized that while they do not believe Putin will use a nuclear weapon, the US and other Western states should plan and prepare for a nuclear strike to ensure that they can react if Putin does use a nuclear weapon. They discuss these topics and more in their new article, "The Psychology of Nuclear Brinkmanship": https://direct.mit.edu/isec/article/47/3/9/114669/The-Psychology-of-Nuclear-Brinkmanship
Speaker Session Recording
Briefing Materials
Slides:
Recommended reading:
The Fragile Balance of Terror by Vipin Narang | eBook | Cornell University Press
The Psychology of Nuclear Brinkmanship | International Security | MIT Press
https://www.foreignaffairs.com/ukraine/putin-and-psychology-nuclear-brinkmanship
Biographies:
Dr. Rose McDermott is the David and Mariana Fisher University Professor of International Relations at Brown University and a Fellow in the American Academy of Arts and Sciences. She works in the areas of political psychology. She received her Ph.D.(Political Science) and M.A. (Experimental Social Psychology) from Stanford University and has also taught at Cornell and UCSB. She has held fellowships at the Radcliffe Institute for Advanced Study, the Olin Institute for Strategic Studies and the Women and Public Policy Program, all at Harvard University, and has been a fellow at the Stanford Center for Advanced Studies in the Behavioral Sciences twice. She is the author of five books, a co-editor of two additional volumes, and author of over two hundred academic articles across a wide variety of disciplines.
Dr. Paul Slovic received his B.A. degree from Stanford University, and his M.A. and Ph.D. degrees in psychology from the University of Michigan. In 1976, Dr. Slovic founded the research institute named Decision Research with Sarah Lichtenstein and Baruch Fischhoff, where he served as President until 2023. He recently became a senior scientist at the Oregon Research Institute. He has also been a professor of psychology at the University of Oregon since 1986. He studies the psychology of risk and decision making. He and his colleagues worldwide have developed methods to describe risk perceptions and measure their impacts on individuals, industry, and society. His recent research examines "psychic numbing" and the failure to respond to global threats from climate change, genocide, and nuclear war. Dr. Slovic is a past President of the Society for Risk Analysis and in 1991 received its Distinguished Contribution Award. In 1993, he received the Distinguished Scientific Contribution Award from the American Psychological Association. In 1995, he received the Outstanding Contribution to Science Award from the Oregon Academy of Science. He has received honorary doctorates from the Stockholm School of Economics (1996) and the University of East Anglia (2005). Dr. Slovic was elected to the American Academy of Arts and Sciences in 2015 and the National Academy of Sciences in 2016. He received the 2022 Bower Award and Prize, given by The Franklin Institute for foundational and theoretical contributions to the study of decision making.