The Evolving Requirements for Extended Deterrence and Allied Assurance in the Indo-Pacific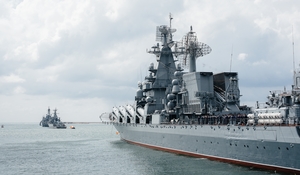 Speaker(s): Smith, S. (Air Force Institute for National Security Studies, US Air Force Academy); Anderson, J. (Senior Policy Fellow, Center for the Study of Weapons of Mass Destruction, National Defense University)
Date: 27 April 2022
Speaker Session Summary
SMA hosted a speaker session with Dr. Shane Smith (Director, Air Force Institute for National Security Studies, US Air Force Academy) and Dr. Justin Anderson (Senior Policy Fellow, Center for the Study of Weapons of Mass Destruction, National Defense University) as part of its SMA INDOPACOM Speaker Series.
The US nuclear umbrella has long been a pivotal factor in its Indo-Pacific allies'—primarily Australia, Japan, and South Korea—ability to deter Chinese and North Korean aggression. The backbone of this nuclear umbrella has been US ability to maintain its nuclear presence and move its military personal at will in the region. Australia, Japan, and South Korea have historically been reliant on the US nuclear deterrence because they are non-nuclear nations and the Indo-Pacific region lacks a security organization like NATO. Dr. Anderson commented that US ability to assure its allies that it will act in their defense is a key aspect of the nuclear umbrella. However, the US decision to remove its bomber squad—which can carry nuclear warheads—from Guam during 2020 weakened its ally's assurance that the US could protect them.
Despite the bomber's removal from Guam, the US is assuring its allies in the Indo-Pacific that it can still strike potential targets in the region. Dr. Smith stated that while China is the fastest growing power in the region, North Korea is the largest existential threat because of their growing nuclear arsenal, advancing long-range missile capabilities, and erratic leadership. North Korea's advancing missile systems and China's aggressive stance in the region have led all three major US allies in the region—Japan, South Korea, and Australia—to adopt legislation to protect themselves. Ultimately there will need to be trilateral dialogue between the US, Japan, and South Korea to ensure that the US can still protect its allies. Japan's and South Korea's geographic distance and historical conflicts with China and North Korea places them at higher risk of overt aggression than Australia. Also, South Korea's interest in attaining a nuclear weapon shows that being a nuclear power is part of what it means to be a global power in today's modern world.
Speaker Session Recording
Our speakers requested that we not record this session.
Briefing Materials