The Salafi Jihadi Threat to the US from Afghanistan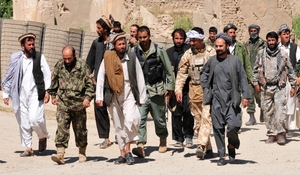 "The Salafi Jihadi Threat to the US from Afghanistan"
Speaker: Kaltenthaler, K. (University of Akron)
Date: 31 October 2018
Speaker Session Preview
SMA hosted a speaker session presented by Dr. Karl Kaltenthaler (University of Akron) as a part of its SMA CENTCOM (Afghanistan) Speaker Series. Dr. Kaltenthaler first outlined his key observations from studying various Salafi Jihadi groups. He then identified the six primary Salafi Jihadi groups that have formulated outside of the "home-grown" Taliban and established roots in Afghanistan: Al Qaeda Core (AQC), Al Qaeda in the Indian Subcontinent (AQIS), ISIS Khorasan Province (ISIS-K), Islamic Movement of Uzbekistan (IMU), Turkistan Islamic Party (TIP), and Pakistani Taliban (TTP). He proceeded to identify the key characteristics that these Salafi Jihadi groups have in common and spoke about each of these groups in detail. Dr. Kaltenthaler also assessed the strength of these groups' ties to the Taliban, discussed their activities in Iran and Afghanistan, and explained how these activities may affect the trajectory of security efforts in Afghanistan. To conclude, Dr. Kaltenthaler assessed what a Taliban victory would mean in Afghanistan and explored US options in Afghanistan and in the region.
Speaker Session Audio File

***Note: The first few minutes of this presentation were lost due to technical difficulties. Our apologies.
Download biography and slides