Understanding Russian Coercive Signaling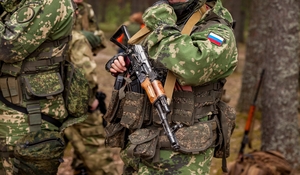 Speaker(s): Charap, S. (RAND); Stravers, A. (RAND)
Date: 18 January 2023
Speaker Session Summary
SMA hosted a speaker session with Dr. Samuel Charap (Senior Political Scientist, RAND) and Dr. Andrew Stravers (Associate Political Scientist, RAND) as part of its SMA STRATCOM Speaker Series.
The Russian military has used coercive signaling as a tool to compel and deter the US and its allies in Eastern Europe. Dr. Charap clarified that the study was completed before Russia's invasion of Ukraine, and it focuses on Russian actions below the threshold of kinetic force. These coercive actions have been increasing in frequency since 2014 and can be classified as low-level incidents, including violations of air or maritime space. Some incidents were simply the result of high amounts of traffic by the Russian military along its borders, particularly the flyway between St. Petersburg and Leningrad. Other instances, including the interception of US-B52 bombers by a Russian Su-27 fighter jet, are interpreted as being more targeted and aggressive. In this instance, voice recordings of the Russian fighter pilot and its commanders were attained and used to prove that it intercepted the US bomber intentionally and outside of Russian air space.
The data used in the study were taken from public reports and compiled into a dataset of relevant blue and green activities. Dr. Stravers cautioned that even though their dataset is as complete and comprehensive as possible, it does have some fidelity issues. For example, some of the incidents in the dataset could represent Russian military leaders acting on their own and without a direct order (e.g., a Russian destroyer passing dangerously close to a disabled US cruiser). Dr. Charap and Dr. Stravers' RAND report concluded that of the study's nine hypotheses, three maintained strong support. These hypotheses are that Russia uses coercive signaling with the goals of a) tactical compellence, b) operational compellence, and c) deterrence of adversaries. 
Speaker Session Recording
Briefing Materials
Biographies:
Dr. Samuel Charap is a senior political scientist at the RAND Corporation. His research interests include the foreign policies of Russia and the former Soviet states; European and Eurasian regional security; and U.S.-Russia deterrence, strategic stability, and arms control. From November 2012 until April 2017, Charap was the senior fellow for Russia and Eurasia at the International Institute for Strategic Studies. Prior to joining the IISS, he served at the U.S. Department of State as senior advisor to the undersecretary for Arms Control and International Security and on the Secretary's Policy Planning Staff, covering Russia and Eurasia. From 2009 to 2011, Charap was director for Russia and Eurasia at the Center for American Progress. Charap's book on the Ukraine crisis, Everyone Loses: The Ukraine Crisis and the Ruinous Contest for Post-Soviet Eurasia (coauthored with Timothy Colton), was published in January 2017. His articles have appeared in The Washington Quarterly, Foreign Affairs, Survival, Current History and several other journals. Charap was a visiting scholar at the Carnegie Moscow Center and the International Center for Policy Studies (Kyiv), and a Fulbright Scholar at the Moscow State Institute of International Relations. He is fluent in Russian and proficient in Ukrainian. Charap holds a Ph.D. in political science and an M.Phil. in Russian and East European studies from the University of Oxford, where he was a Marshall Scholar. He received his B.A. in Russian and political science from Amherst College. He is a life member of the Council on Foreign Relations.
Dr. Andrew (Andy) Stravers joined RAND as an Associate Political Scientist in August 2019. Since then, he has worked on projects related to the political determinants of military access in Europe, basing posture, security cooperation, strategic competition, global force management, Russian coercive signaling behavior, and others. Before joining RAND, Andy was a Postdoctoral Research Fellow at the University of Texas-Austin, where he also earned his Ph.D. His academic research focused on military base politics, American foreign policy, grand strategy, and great power politics. His book Beyond the Wire examines local public opinion related to the presence of U.S. military forces in host countries. He has published in the American Political Science Review, Conflict Management and Peace Science, the Journal of Global Security Studies, and elsewhere.