US-China Technological "Decoupling": Strategy, Policy, and Military Implications
December 2022
No Comments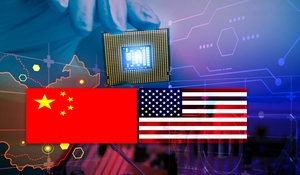 Speaker(s): Bateman, J. (Senior Fellow, Technology and International Affairs Program, Carnegie Endowment for International Peace)
Date: 20 December 2022
Speaker Session Summary
SMA hosted a speaker session with Mr. Jon Bateman (Senior Fellow, Technology and International Affairs Program, Carnegie Endowment for International Peace) as part of its SMA "Anticipating the Future Operational Environment" (AFOE) Speaker Series.
The techno-globalist world that we once lived in is now being pulled back. What we are witnessing is not a technological divorce, but rather a reduction in the technological interdependence between the US and China. There are two primary ways in which the US government has reduced its technological interdependence with China. One method is the use of defensive controls (e.g., export controls, visa limits, investment screenings), and the other is the use of offensive controls (e.g., Chips Act, Inflation Reduction Act). In 2022, the US government has taken much more of an offensive approach than ever before. Traditional defensive tools used by the US have also been greatly intensified and implemented in new ways against China, and a series of new defensive tools have been developed as well.
Mr. Bateman then focused on US's substantial increase in both inbound and outbound investment restrictions, specifically. In 2022, the US government greatly expanded its use of the Entity List, which targets individual companies and imposes a licensing requirement to conduct business with them. Four times more Chinese companies are on the Entity List now than there were in 2018. Moreover, the US government is in the process of making it more difficult for US citizens to invest in Chinese companies. Mr. Bateman emphasized that there needs to be a cohesive strategic vision across the US government. To achieve this goal, outlining our specific goals and objectives related to specific Chinese threats is imperative. The objectives that Mr. Bateman provided include: 1) maintaining a military edge over China, 2) thwarting Chinese national security espionage, 3) preventing Chinese sabotage in a crisis of military or civilian assets, 4) limiting Chinese influence operations, 5) denying support for China-enabled techno-authoritarianism and repression, 6) countering unfair Chinese economic practices and IP theft, 7) competing and leading in strategic industries, 8) obtaining general leverage over China, and 9) shaping US domestic narratives. A cohesive strategic vision surrounding technological decoupling is impeded, however, by the presence of three distinct camps of individuals: restrictionists, cooperationists (who have almost disappeared from the political sphere), and centrists. Restrictionists believe that the US-China technological relationship is zero-sum and tends to advantage China, while centrists believe that the US-China relationship has both zero-sum and non-zero-sum elements with mixed costs and benefits for both countries.
Mr. Bateman concluded by stating that military arguments are front and center in the technological decoupling debate; therefore, the DoD should use its voice prudently. The US is moving into a realm where the policy implications of restricting dual-use technologies may still centrally involve the US military, but they will also hugely impact civilians. The DoD needs to also be cautious in listening to other agencies and monitoring the debate but not seeking to drive it. Finally, the DoD must clearly articulate what the national security implications of emerging technologies are in order to provide rationale for future US actions against China.
Speaker Session Recording
Briefing Materials
Biography:
Mr. Jon Bateman is a senior fellow in the Technology and International Affairs Program at the Carnegie Endowment for International Peace. He is the author of US-China Technological "Decoupling": A Strategy and Policy Framework (foreword by Eric Schmidt). Previously, Mr. Bateman was special assistant to Chairman of the Joint Chiefs of Staff General Joseph F. Dunford, Jr. He also served as director for cyber strategy implementation in the Office of the Secretary of Defense, and as a senior intelligence analyst at the Defense Intelligence Agency. Mr. Bateman's commentary has appeared in the Wall Street Journal, Politico, Harvard Business Review, the Hill, Slate, Foreign Policy, Foreign Affairs, Techdirt, and elsewhere. Bateman is a graduate of Harvard Law School (JD) and Johns Hopkins University (BA).