Using Messaging and Communication to Influence and Inform: Insights from the Private Sector – An Integrating Information in Joint Operations (IIJO) Virtual Think Tank Report
February 2021
No Comments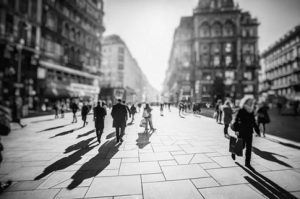 Authors | Editors: Popp, G. (NSI, Inc.); Kuznar, E. (NSI, Inc.); Stokes, S. (NSI, Inc.); Jafri, A. (NSI, Inc.)
Subject Matter Expert Contributors
Paul Astorino (Senior Vice President, Global Merchandizing, Clarks), Catherine Chapman (Founder and CEO, Parenthetic), Cyndi Coon (CEO and Founder, Labratory5 Inc.), John DeBello (President and Chief Creative Officer, Loma Media), Bill Heater (Creative Executive, Real Life Creative), Dr. William McEwen (Advertising Executive and Consultant, Independent), Dr. Jay Rosen (Author and Associate Professor of Journalism, NYU), Shari Rosenfeld (Senior Vice President of International Social Impact, Sesame Workshop), Dr. Don Stacks (Professor Emeritus, Public Relations, School of Communication, University of Miami; CEO, International Public Relations Research Conference), Al Teller (Music Industry Executive, Independent), Sherrie Westin (President, Sesame Workshop), Two Anonymous Gaming Industry Executives.
Question of Focus
[Q4] What are relevant insights from the private sector with respect to using messaging and communication to influence and inform different audiences?
Summary Overview
This ViTTa® summary report reflects on the insightful commentary from interviews with thirteen messaging and communications experts from the private sector. The backgrounds of the expert contributors interviewed as part of this ViTTa® elicitation include advertising, branding, marketing, public relations, storytelling, and journalism. For this ViTTa® report, the expert contributors offer insights from their experiences in using messaging and communication in the private sector to influence and inform different audiences. This summary presents an overview of the key expert contributor insights heard over the course of interviews with the experts.
Please see the PDF below for the complete summary overview.
Download Publication