Venezuela Country Report- An NSI Aggrieved Populations Analysis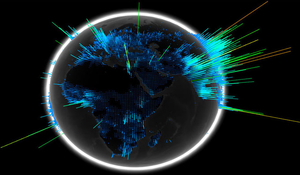 Venezuela Country Report- An NSI Aggrieved Populations Analysis
Author | Editor: Kuznar, E. (NSI, Inc.)
Executive Summary
Data
Two datasets on wealth and status distribution in Venezuela were analyzed: 2006 World Bank quintile and decile estimates of income, and 2014 Venezuelan Encuesta de Condiciones de Vida (ENCOVI) data on income by occupational category.
Results
Income data provided by the World Bank (2006) and occupational data from ENCOVI (2014), shows a Venezuelan population that is extremely risk acceptant with a mean Arrow-Pratt score of -7.15, the second highest in the world.
Significance for Risk Taking and Stability
Venezuela's lowest and highest socioeconomic classes are extremely risk acceptant. The Venezuelan political and economic crisis is causing a shortage of living essentials for most of its population (Garcia- Navarro, 2016). How most of its population lives is in stark contrast to those working in the petroleum industries, or political elites who enjoy a high quality of living from low-priced goods and luxury items purchased from the black market.
Implications for US Interests
The United States has strong security interests in Venezuela but has little direct influence over what occurs in the country while President Maduro remains in power (Neghaiwi, 2019). Instead, the United States relies on economic sanctions to place political pressure on President Maduro in the hopes of seeing him removed from office. The US supports the opposition leader Juan Guaido's claim to the presidency. While President Maduro retains his power, the US must rely on Switzerland, which has been acting as a conduit between the US and President Maduro, to represent US interests. The extremely risk acceptant segments of Venezuelan society indicate that turmoil will continue between aggrieved constituencies supportive of Maduro and Guaido and across socioeconomic classes.
Implications for China's Interests
China has sunk billions of dollars into Venezuela in the form of financial aid (Rendon, 2018). If President Maduro retains his power, China will retain a tremendous ally in Latin America that it will be able to control through debt (Sigalos, 2019). However, if President Maduro is replaced by Guaido, then China stands to lose much of the money it has loaned Venezuela as well as access to cheap oil. The continued turmoil presents a dynamic situation from which China may either benefit if Maduro retains power or lose of Guaido prevails.
Implications for Russia's Interests
Russia has invested money and military personnel in Venezuela on a smaller scale than China, however its desired end is also to see President Maduro retain his power (Sigalos, 2019). Russia's interaction with Latin America is partially driven in response to the US and NATO activity in the Balkans and former Soviet republics. Sigalos also states that this is a part of a larger economic strategy that is contingent on Russia growing its markets outside of countries in the European, Union including investments in Venezuela's petroleum industry (Lowe & Sagdiev, 2019). To both of these ends, if President Maduro secures his presidency, then Russia will gain an important political ally in the region and access to cheap petroleum. As with China, Russia's interests hang in the balance while a highly divided, discontented and risky accepting population supports their political rivals.
Download Publication