What Antifa Is, What It Isn't, and Why It Matters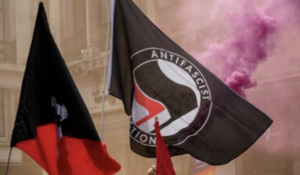 Speakers: Clarke, C. (The Soufan Center & International Centre for Counter-Terrorism – The Hague); Kenney, M. (University of Pittsburgh)
Date: 10 March 2021
Speaker Session Summary
SMA hosted a speaker session, presented by Dr. Michael Kenney (University of Pittsburgh) and Dr. Colin Clarke (The Soufan Center & International Centre for Counter-Terrorism–The Hague), as a part of its SMA General Speaker Series.
Dr. Clarke began the presentation by emphasizing data's importance when examining politically sensitive issues. He highlighted data from a 2020 Center for Strategic and International Studies (CSIS) report, which showed that left-wing extremist organizations, such as ANTIFA, were responsible for 20% of domestic terror attacks in the US. These left-wing extremists were defined as groups that use violence to protest capitalism, imperialism, or colonialism, or in defense of black nationalism, environmentalism, communism, socialism, or a decentralized government that borders on anarchy. Dr. Clarke then argued that while acts of domestic terrorism from left-wing extremist organizations are few compared to their right-wing counterparts, there have been several instances that have received national attention. Two of the instances that Dr. Clarke named are William Van Spronsen's possible  "suicide by cop" in 2019 and Michael Reinoehl's shooting of a member of the far-right group "Patriot Prayer" in 2020. Both Spronsen and Reinoehl were self-proclaimed members of ANTIFA.
Dr. Kenney continued by arguing that ANTIFA is not a monolithic organization. Instead, ANTIFA is comprised of a network of local organizations—some of which self-identify as being part of ANTIFA—that support a form of left-wing ideology. Dr. Kenney did mention that there is an ANTIFA Torch Network, which loosely helps to organize groups across the country. However, he believes that affinity groups—which he defined as a group of friends who try to achieve a common political, social, or cultural goal—is a more accurate description of ANTIFA. Nonetheless, because ANTIFA is a loose system of local organizations, Dr. Kenney is skeptical that the group has a large official membership or the ability to orchestrate large scale protests.
Dr. Kenney also argued that because ANTIFA is decentralized, most of its sub-groups' belief systems vary, and they are often concerned with different political issues. Two frequent similarities among groups that identify as being part of ANTIFA, however, are participating in hacking events and assigning the label of fascist to any individual who is right of center. Dr. Kenney also stated that the majority of ANTIFA members hold a mixture of libertarian and anarchist beliefs. 
Dr. Clarke concluded by arguing that the data from the CSIS report that he referenced earlier in the brief does not indicate that ANTIFA is a major domestic threat, and he posited that the disinformation surrounding the January 6th riot at the Capitol building may have led to the increase in fear and threat perception of ANTIFA in the US.
Speaker Session Recording
Note: We are aware that many government IT providers have blocked access to YouTube from government machines during the pandemic in response to bandwidth limitations. We recommend viewing the recording on YouTube from a non-government computer or listening to the audio file (below), if you are in this position.
Download Briefing Materials
To view our speakers' relevant article, please see https://warontherocks.com/2020/06/what-antifa-is-what-it-isnt-and-why-it-matters/