Why We Fight: The Roots of War and the Paths to Peace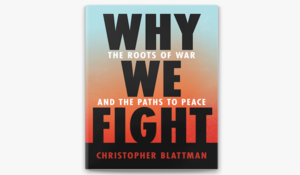 Speaker(s): Blattman, C. (Ramalee E. Pearson Professor of Global Conflict Studies, Pearson Institute and Harris School of Public Policy, University of Chicago)
Date: 18 October 2022
Speaker Session Summary
SMA hosted a speaker session with Dr. Christopher Blattman (Harris School of Public Policy, University of Chicago) as part of its SMA AFOE Speaker Session.
Wars throughout history have skewed peoples' beliefs on the likelihood of states going to war with each other. The number and frequencies of wars in the past have made it a commonly held belief that states are likely to go to war. However, state leaders are more likely to avoid military conflict, using it as only a last resort. For example, India accidentally fired a missile into its generational rival, Pakistan, earlier this year, but managed to avoid war. Dr. Blattman emphasized that countries avoid military conflict because war is costly and ruinous; especially between two nuclear powers such as India and Pakistan. He identified five reasons why states sometimes ignore war's costly nature: 1) unaccountable leaders, 2) ideological leaders, 3) leaders' and their advisors' biases, 4) uncertainty of a war's costliness, and 5) the lack of trust between states to commit to a diplomatic deal.
The reasons that countries choose to avoid or commit acts of war do not only apply to states, they also apply to terrorist organizations, militia groups, or criminal organizations. Dr. Blattman commented that besides occasional random acts of violence, even gang violence is predetermined and used to achieve specific objectives. He used gang wars in Medellín, Colombia as an example. Despite devolving into a citywide gang war several times in the past, Medellín has largely avoided gang wars because no actors make money during a time of conflict. In addition, mediators have been used effectively at all levels to avoid conflict. Their use helps actors manage emotional outbursts, maintain constant dialogue, and avoid uncertainty surrounding negotiations. All potential paths to peace addresses one of the five costs of war previously mentioned.
Speaker Session Recording
Briefing Materials
Biography: Dr. Christopher Blattman is the Ramalee E. Pearson Professor of Global Conflict Studies at The University of Chicago's Pearson Institute and Harris School of Public Policy. He is an economist and political scientist, and his work on violence, crime, and poverty has been widely covered by The New York Times, The Washington Post, The Wall Street Journal, Financial Times, The Economist, Forbes, Slate, Vox, and NPR. His most recent book is Why We Fight: The Roots of War and the Paths to Peace. Dr. Blattman was previously faculty at Columbia and Yale Universities, and holds a PhD in Economics from UC Berkeley and a Master's in Public Administration and International Development (MPA/ID) from the Harvard Kennedy School. He co-leads the Development Economics Center at the University of Chicago, the Peace & Recovery sector at Innovations for Poverty Action (IPA), and the Crime, Violence and Conflict initiative at MIT's Poverty Action Lab (JPAL). Much of Dr. Blattman's work designs and tests solutions to violence and poverty, and he has worked mainly in Colombia, Liberia, Uganda, Ethiopia, Mexico, and Chicago.