Evaluation of Counter Violent Extremism Campaigns in Nigeria, Indonesia, and the Philippines
November 2020
No Comments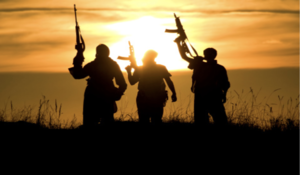 Speakers: Helmus, T. (RAND); Bodine-Baron, E. (RAND); Marrone, J. (RAND)
Date: 13 November 2020
Speaker Session Summary
SMA hosted a speaker session as a part of its SMA INDOPACOM/AFRICOM Speaker Series. The panelists included Dr. Todd Helmus (RAND), Dr. Elizabeth Bodine-Baron (RAND), and Dr. James Marrone (RAND).
Dr. Helmus began the presentation by emphasizing the importance of counter violent extremism (CVE) campaigns in the fight against violent extremism. In his recent work for RAND, he and colleagues supported and evaluated CVE campaigns in Nigeria, Indonesia, and the Philippines, specifically. He provided an overview of the structure of the study they conducted before turning the floor over to Dr. Marrone.
Dr. Marrone discussed his team's findings in Nigeria. They used a text message survey of 2,000 participants in northern Nigeria in order to test whether a 10-week exposure to Ina Matifa Radio Talk Show provoked mentorship and increased sympathy for kidnapping victims. The results of the study showed that, after listening to the show, participants tended to agree more with some of the themes that the show was attempting to promote than they had previously, based on their opinion surveys. However, this positive result did not occur in all of the themes presented—in fact, some opinions on diversity and kidnapping empathy were opposite of what was intended. Therefore, there is evidence that a "boomerang effect" occurred in some instances.
Dr. Bodine-Baron then covered the RAND team's study conducted in Indonesia. In this study, they used Facebook ads to recruit 1,500 participants. The survey structure paralleled that of the Nigeria study, using weekly exposure with follow-up surveys to gauge participants' opinions. The goal of the study was to determine whether a social media campaign can promote acceptance of diversity. There was a high response rate among participants, whose levels of enjoyment and engagement in the counter violent extremism content were similar to those who viewed the control content. However, their analysis also showed that, similar to the Nigerian case, there were both positive and negative effects of the campaign's themes.
To conclude, Dr. Helmus discussed the RAND team's study conducted in the Philippines, which specifically evaluated the ability of a radio drama to promote youth and women's empowerment and good governance. In this study, the team used face-to-face interviews to recruit 1,200 Mindanaoans at the Barangay level. This study proved to be less successful than the others, as several factors undermined the team's confidence in it. First, a major gender difference between groups revealed selection bias in the enrollment of the treatment and control groups. Second, there was a series of earthquakes in Mindanao that affected the team's data collection and analysis. Lastly, the treatment and control groups exhibited nearly simultaneous results. Overall, these RAND studies imply that counter-messaging campaigns can be effective. However, because the outcomes were inconsistent, it is critical that future assessments tease out varied effects, Dr. Helmus stated.
Speaker Session Recording
Note: We are aware that many government IT providers have blocked access to YouTube from government machines during the pandemic in response to bandwidth limitations. We recommend viewing the recording on YouTube from a non-government computer or listening to the audio file (below), if you are in this position.
Download Our Speakers' Briefing Materials