Mosul: The Post-ISIS Landscape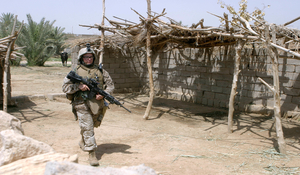 "Mosul: The Post-ISIS Landscape"
Speaker: Waziri, H. (ARTIS International)
Date: 2 May 2019
Speaker Session Preview
SMA hosted a speaker session presented by Mr. Hoshang Waziri (ARTIS International) and Dr. Scott Atran (ARTIS International / University of Michigan) as a part of its SMA CENTCOM Speaker Series. To begin, Dr. Atran explained what ARTIS does and provided some insight into the end-state perception of ISIS, as revealed through interviews with political and military leaders, former fighters and militants, and ISIS supporters. Mr. Waziri then discussed the current state of Mosul and provided images to illustrate his points. He stated that Mosul has not recovered from the war of ISIS, noting that Mosul currently looks similar to a construction site. Next, Mr. Waziri presented ARTIS's research, which aimed to assess and understand: 1) individuals' trust in the Iraqi army before and after the liberation of Mosul; 2) individuals' thoughts on whether ISIS (physically and/or as a set of beliefs) will be completely eliminated; 3) the resilience of the Sunni community, both in general and against ISIS and Iran; and 4) the viewpoint of young Sunnis who lived under ISIS. The ARTIS team surveyed 72 young males located in Mosul as a part of this study. Respondents claimed that ISIS's defense of religion and implementation of Shia values, its preservation of security and freedom, and its provision of services were its best attributes. The majority of respondents believed that ISIS will not be completely eliminated, especially as a set of beliefs. ARTIS's survey also revealed a moderate level of trust in the Iraqi army overall. Mr. Waziri also touched upon the conspiracy beliefs among some respondents that the US, Iran, Israel, and/or Turkey have aided ISIS in the past. He also stated that the disadvantaged religious, social, and economic pre-ISIS conditions are still prevalent in Mosul. To conclude, Dr. Atran stressed the need for social science research on ISIS and discussed what the US can do to drive a wedge between ISIS and its supporters. He offered the following suggestions: 1) Conduct interviews and surveys via social media, 2) Focus on violations of Sharia and traditional Sunni practices, 3) Provide positive, peaceful, and concrete programs to youths that motivate religious sentiment and community spirit, and 4) Offer to help family members of men at risk (i.e., rather than denigrate and isolate families, keep them under constant surveillance).
Speaker Session Audio File
To access a recording of this session, please email Ms. Nicole Peterson (npeterson@nsiteam.com).
Download Mr. Waziri's Biography and Slides