Influence and Perception Management Office
September 2023
No Comments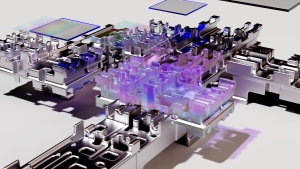 Speaker: Mr. James Holly (OUSD (I&S))
Date: 3 October 2023
Speaker Session Summary
The Influence and Perception Management Office (IPMO) is a young office within the Office of the Under Secretary of Defense for Intelligence and Security (OUSD I&S). However, the need for an organization managing the US Armed Forces' messaging has been debated for two decades among military and civilian leaders. The office's first acting director, Mr. James Holly, emphasized that the evolving modern threat landscape has only increased the need for the IPMO over that time. During the years of IPMO's creation, three Secretaries of Defense, under two administrations, signed off on its establishment, underscoring the need for this kind of office.
The IPMO is comprised of four divisions focused on: 1) Integrated Influence, 2) Perception Management, 3) Deception Activities, and 4) Intel Support to Influence Activities. The Integrated Influence Division develops tailored influence guidance focusing on specific adversaries and threats to US national security. The Perception Management Division develops and executes policy, oversight, and governance related to DoD perception management (reveal/conceal of defense capabilities) programs and activities. The Deception Activities Division is focused on developing and executing policy, oversight, and governance related to the DoD's deception management.
Briefing Materials
Biography: Mr. James Holly is the first Acting Director of the Influence and Perception Management Office within the Office of the Secretary of Defense at the Pentagon. He leads a staff to oversee the development of strategy, policy, plans, and governance of influence, deception, perception management (reveal/conceal defense capabilities), and intel support to influence activities. Among other roles, he has previously served as Director of Special Programs for the U.S. Joint Special Operations Command, Intelligence Officer for a Combined Joint Task Force in Afghanistan, and Intelligence Chief for a paramilitary organization in Iraq. He is a certified Counterintelligence Officer/Agent, Interrogator, Immigration Officer, Fraud Detection and National Security Officer, Diplomatic Security Service graduate, Federal Law Enforcement Training Center graduate, SWAT Sergeant, Sniper, Paramilitary Officer, Signature Reduction Officer, Virginia Realtor, and is a U.S. Army veteran. Originally from Arizona, Mr. Holly currently lives in northern Virginia, where he enjoys spending time with his wife and children while exploring an eclectic range of hobbies from motorcycles to reading, or museums to homebrewing He holds a Master's Degree from Penn State, has been a lecturer at several colleges/universities, and is a Senior Executive Fellow at Harvard.